Welcome to our in-depth analysis of Andøya Space Center. Make sure to check out our mission statement and why we do what we do. Look at our New Space guide if you want explanations of terms and concepts used in our research. And follow us on Twitter for updates.
What you should know about Andøya Space Center (ASC)
📰 For space enthusiasts
ASC will be a continental, orbital spaceport in Europe, the first of its kind with ESRANGE in Sweden
2 launch pads with 10 launches per year at 1,500 kg launch capacity to low earth orbit each. Third pad planned after 2025
Andøya is one of the oldest still active spaceports, and also the northernmost location for launches in the world
Construction started in 2022, first launch pad finished in 2023, full expansion until 2025
Beautiful location, rocket launches with Northern lights will be a thing!
💰 For VCs and industry experts
Over USD 35 million in investments for construction of the new spaceport
Owner of ASC are Norwegian government (90%) and Kongsberg Defense Systems (10%)
Over 60 year history, ASC will have two ports for suborbital (current) and orbital (under construction) launches
Signed launch agreements with Isar Aerospace for exclusive use of a launch pad. RFA interested as well
👨‍💻 For potential employees
Over 140 employees with broad spectrum of knowledge, furthering scientifical and military research and ensuring access to space
English speaking work culture with good benefits (health insurance, pensions etc.)
Andøya Space salary is negotiated upon hire depending on qualifications and expertise; expected ranges between NOK 400,000 – NOK 700,000 (USD 40,000 – USD 70,000)
Andøya Space Center: Finally, rockets will launch from Europe
The Andøya Space Center is a spaceport made for launching rockets in northen Norway. It is a remarkable and historic place that you probably have not heard of. With a history of rocket launches dating back to 1962, it is one of the oldest active launch sites in the world. Its location in northern Norway at a latitude of 69° makes it also the northernmost launch site in the world, even further north than the actual Santa Claus village.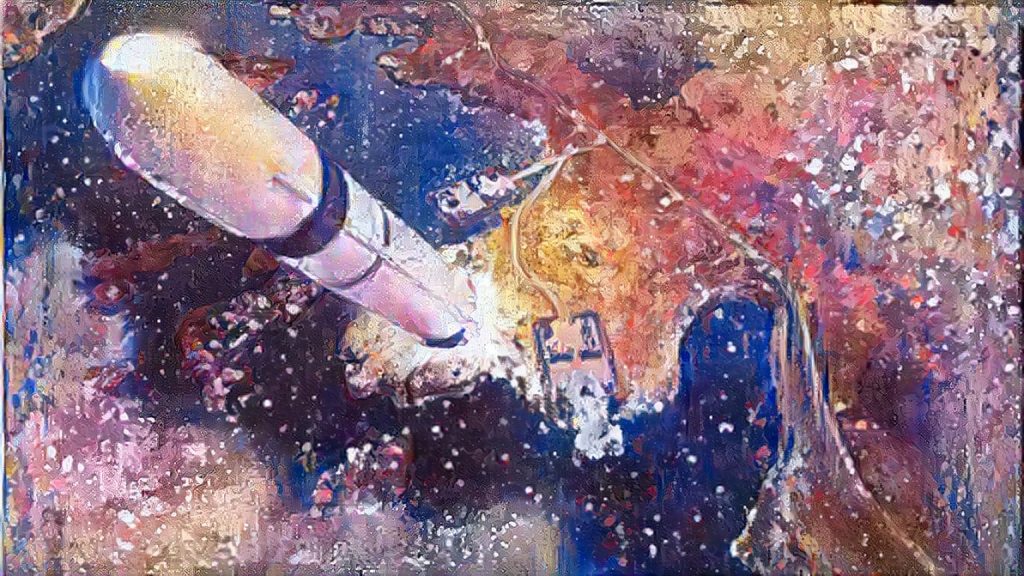 Now, Andøya Space Center (ASC) will become the first of its kind on the European continent with a new launch site for orbital launches. This new spaceport – which is like an airport but for rockets – will enable Europe to launch "orbital class vehicles with payloads of up to 1,500 kilograms", or in other words: Europeans can finally send really big things into space from their own continent!
Andøya will feature an unprecedented support infrastructure, integration facilities, and launch capabilities for the European continent and all the NewSpace companies that are growing rapidly right now. So let's look at what makes Andøya so special, and why it is worth following in detail!
History and overview of the Andøya Space Center
Andøya Space Center was one of the very first permanent launch facilities in the world. Since 1962, research rockets and scientific balloons have taken off from northern Norway. With customers including NASA, ESA or JAXA, Andøya Space has provided a full service for launch, operations, recovery and ground support for the big names in space.
Originally, Andøya was called "Andøya Rocket Range" (Andøya Rakettskytefelt) and its first launch took place about a year after JFK announced that the US was going to the moon. On August 18, 1962, the Norwegians first sent a Nike Cajun rocket 100 km high into the sky.
Since then, over 1,500 "high altitude" (generally way higher than an airplane, so further than 30 km) research rockets and ballons have been launched from the site. The focus of those rockets mostly on research, ranging from the weather to the north pole, to military applications and the study of the beautiful northern lights.
Even though Norway is not a member of the EU or the Euro, it has joined the European Space Agency (ESA) in 1987, which brought a boost in activity during the 90s. This included recovery vehicles in 1990 and the ALOMAR lidar facility in 1994. ALOMAR (Arctic Lidar Observatory for Middle Atmosphere Research) doesn't just beam lasers into the sky (see picture below), but it mostly analyses the atmosphere around the north pole which are used to study the climate.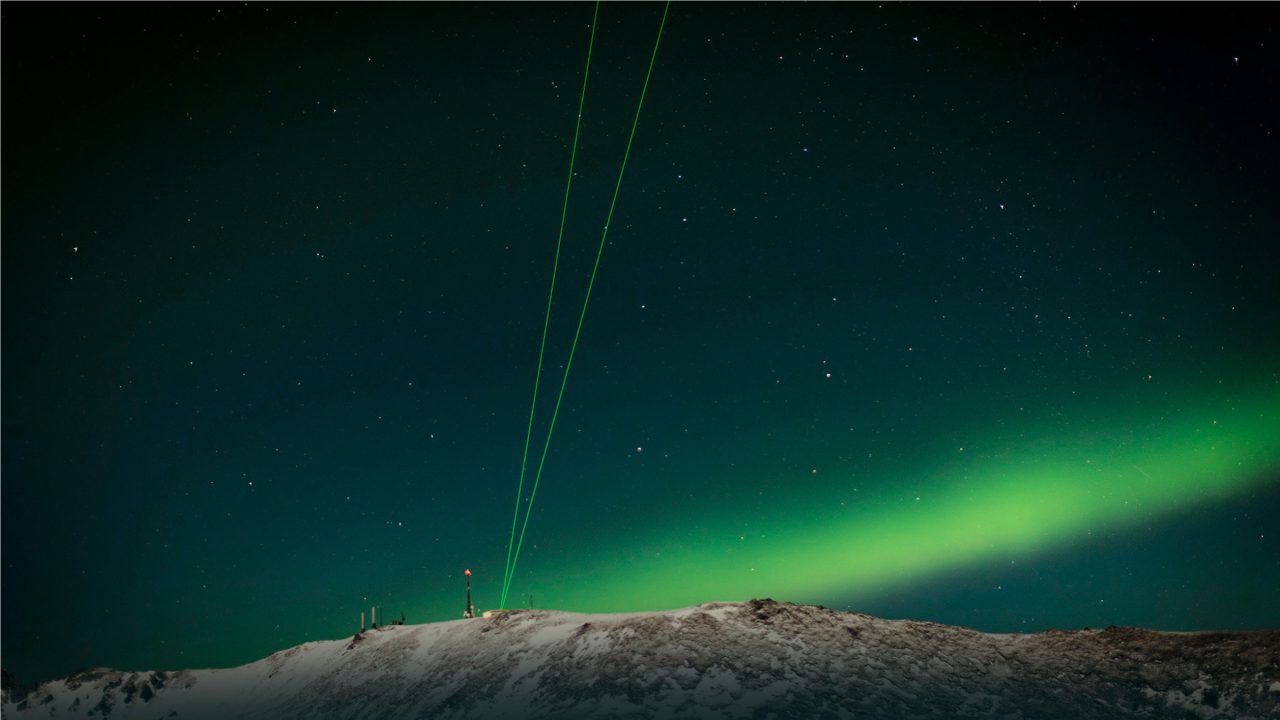 In 1995, Norway almost accidentally triggered a nuclear war by launching a Black Brant rocket into the northern sky, which Russia mistakenly took for a missile headed for the mainland. In 1997, Andøya added a secondary launch site at Ny-Ålesund, Svalbard, even further north (79° N). That place is known as the Svalbard Rocket Range.
In 1997, Andøya was also incorporated as a joint stock company, Andoya Space AS, with two shareholders: the Norwegian Ministry of Trade, Industry and Fisheries, who still to this day hold 90% of the shares and Kongsberg Defense Systems, a Norwegian Aerospace and Defense company with 10%. In 2014, the site was officially renamed Andøya Space Center and in 2018, plans were initiated for an orbital spaceport capable of launching payloads of up to 1,500 kg into low earth orbit (LEO – this is where most things in space are, such as satellites or the ISS).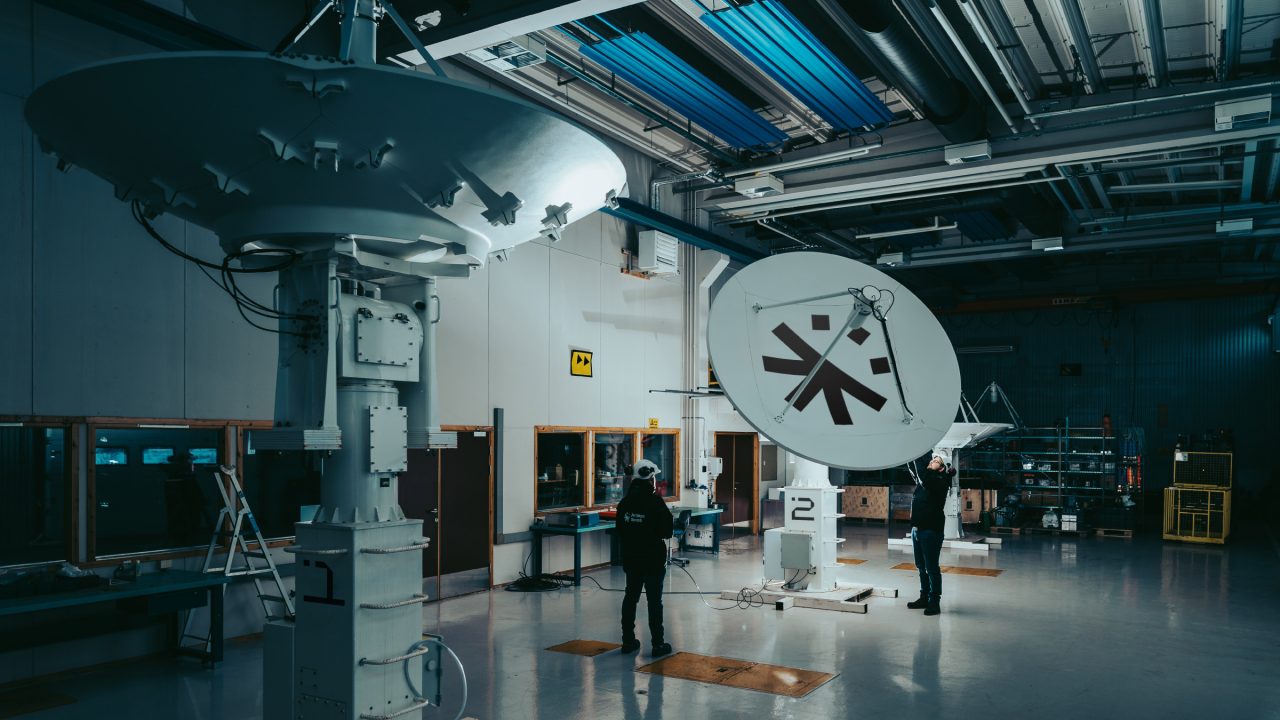 Key events and milestones for Andøya Space: A chronology
In 1962, Andoya Rocket Range was established and the first rocket was launched.
In 1987, Norway became a full member of the European Space Agency (ESA).
In 1990, recovery vessels were introduced to retreive rockets and payloads from the Norwegian sea
In 1994, the ALOMAR facility was opened at Andøya (which makes for some amazing photographs)
In 1995, the Norwegian rocket incident (also known as the Black Brant scare) happened.
In 1997, Andøya established a secondary, mobile base at Ny-Ålesund, Svalbard, known as the Svalbard Rocket Range.
In 2005, Andøya introduced it's "Hotel Payload" concept with a full service launch capabilities for scientific rocket launches
In 2008, a Black Brant rocket reached the highest altitude ever from Andøya with an altitude of 1,460 km.
In 2014, the facility was renamed Andøya Space.
In 2018, plans were initiated for an orbital spaceport capable of launching payloads of up to 1,500 kg into low earth orbit (LEO).
In 2021, the Norwegian government provided over NOK 360 million (ca. $35 million) in financial support for the Andøya Space Center.
The first launches from Andøya are planned to take place in 2023/2024 by RFA and Isar Aerospace.
The spaceport is expected to be completed in 2025.
Andøya Space goes orbital: Developing a spaceport
Now that we know the history of Andøya Space, let's look at the future! In 2018, Andøya Space officially started its planning process for an orbital launch site. The Norwegians took the decision right around the time when aerospace startups all over Europe were founded and "NewSpace" started to take off. The decision was also in part driven because the Andøya military airfield, one of the economic drivers of the region, is set to shut down in 2023.
Andøya has significant experience with research rockets and scientific ballons and even military operations, but those are mostly limited to payloads of a few dozen kilograms. The new spaceport will handle orbital launches capable of up to 1.5 tons of payload capacity, which is a bit like going from a private airstrip for individuals to an international hub for airlines. But that is exactly what Andøya is now doing.
Big European NewSpace companies such as Isar Aerospace and RFA have already secured spots for their initial launches, and construction has started on the first launch pads. Time to dive deeper into one of the most interesting infrastructure projects in Europe.
Layout and Site Planning: This is what the new launch site will look like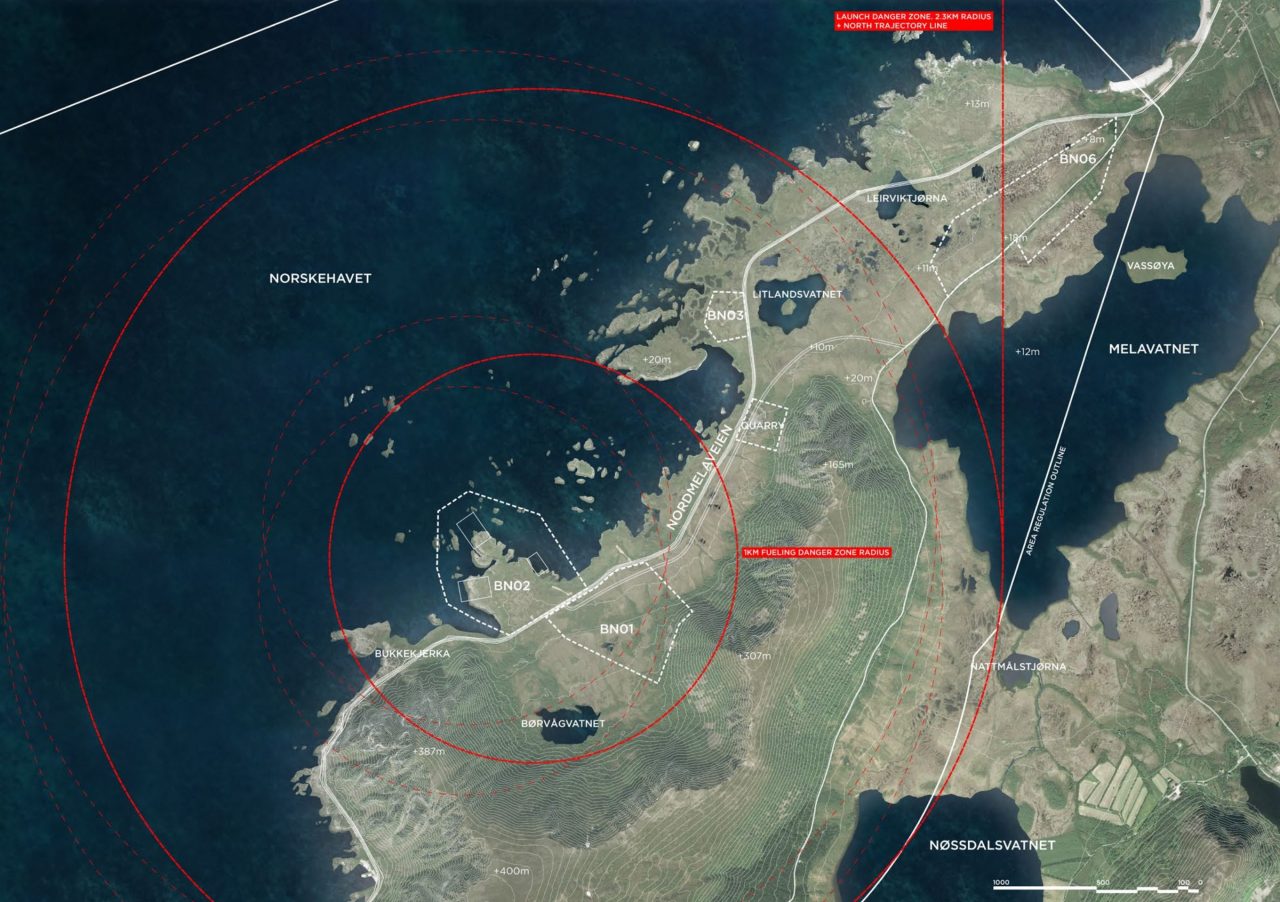 On the image provided by the ASC above, you can see the layout of the new Andøya spaceport that is being built right now. In it, you can see the main parts with BN02 as the launch site (where rockets will take off) and the two red radiating circles of danger zones for when propellant fuelling starts (that is when things can go wrong because it can blow up more easily – the smaller red circle) and "launch hazard zone" (this is where things go when newer rockets take off, so the circle has a 2km radius – the bigger red circle). You can also see several other relevant areas:
BN01 (center), which will be the assembly integration and test building (AIT) with a floor space of roughly 1,000 square meters in total.
BN02 (center, by the sea), which will include the launch pads, 2 of which are planned to be finished by 2024, with a third for potential expansion after 2025.
BN03 (top, inside the launch danger zone) will act as a concrete platform with radar and telemetry equipment.
BN06 (top right, outside the launch danger zone) which will be the largest compound including the administrative area with a planned floor space of 10,000 square meters in total.
BN04 and BN05 are sites that have become obsolete throughout the development process. Initially, it was planned to have a launch pad at sea (BN05), which made for some amazing renderings and would have been quite unique: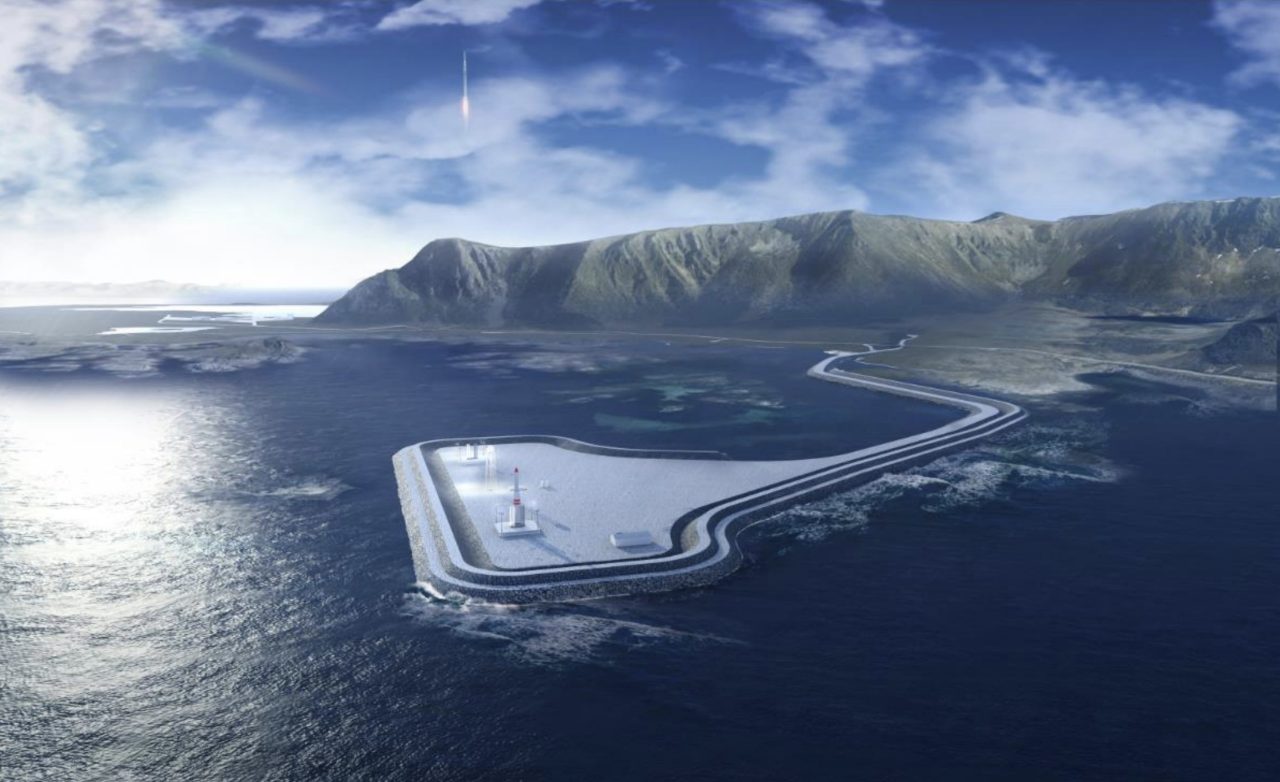 Launch pads, vehicle size and public areas
There are three launch pads planned. Launch pad A and launch pad B will be constructed immediately, to be finished between 2023 and 2024. Launch pad C is a future option. The A pad has a diameter of 60×100 meters, B and C are bigger with 100×150 meters each. The pads will include launch tower type structures of up to 15 meters in height as well as larger lightning deflection towers that can reach up to 45 meters in height.
Each launch pad, once constructed, is set to support up to 10 launches per year with a maximum capacity of 1,500 kg of payload per launch, giving ASC a maximum payload capacity of around 30,000 kg in 2024 or, if pad C is finished, up to 45,000 kg of yearly payload capacity. This shows ASC's focus on smaller launch providers.
Here is an overview of the three orbital launch pads at Andoya. Pad A and pad B will be constructed right away with pad C as optional extension.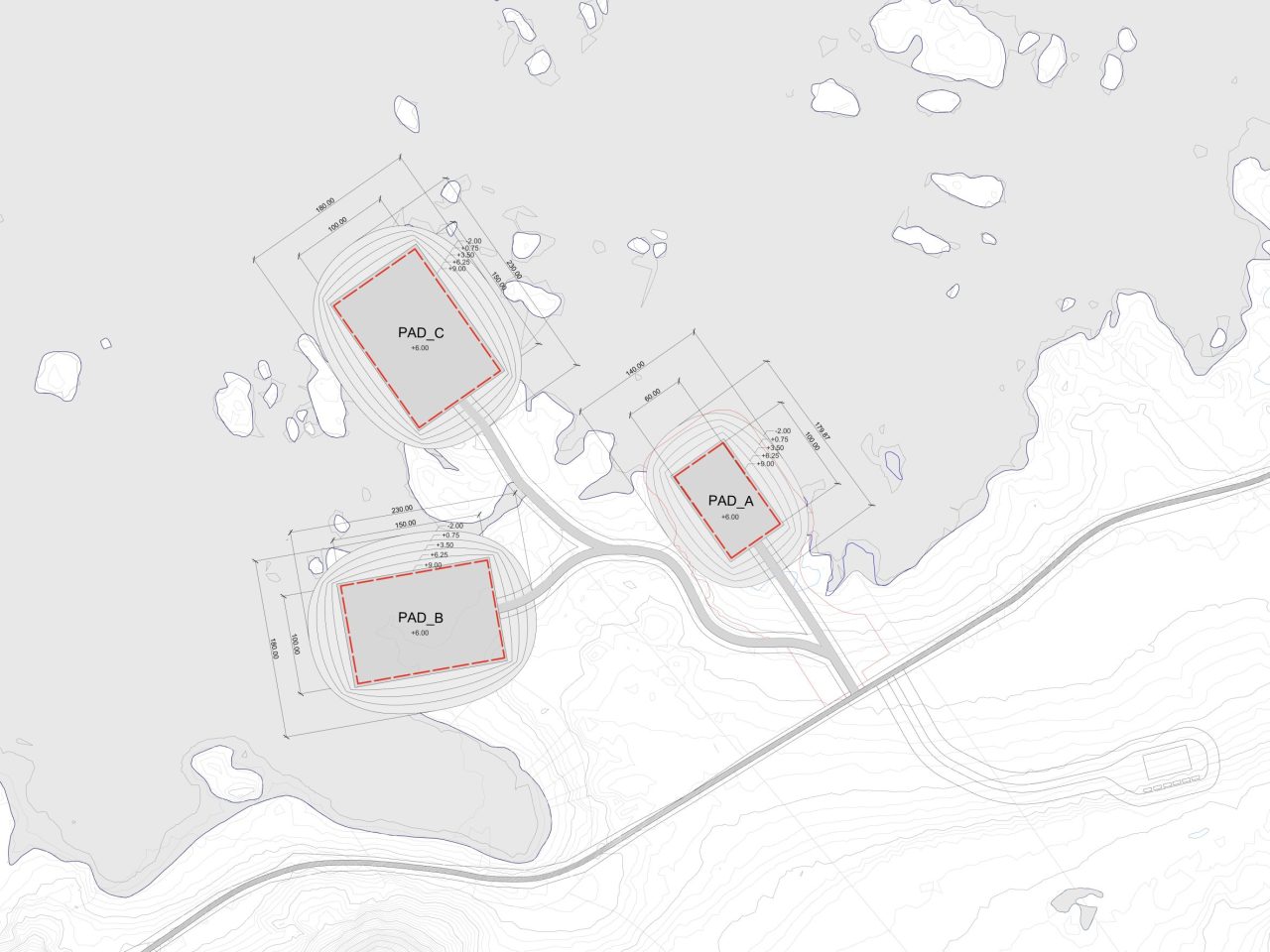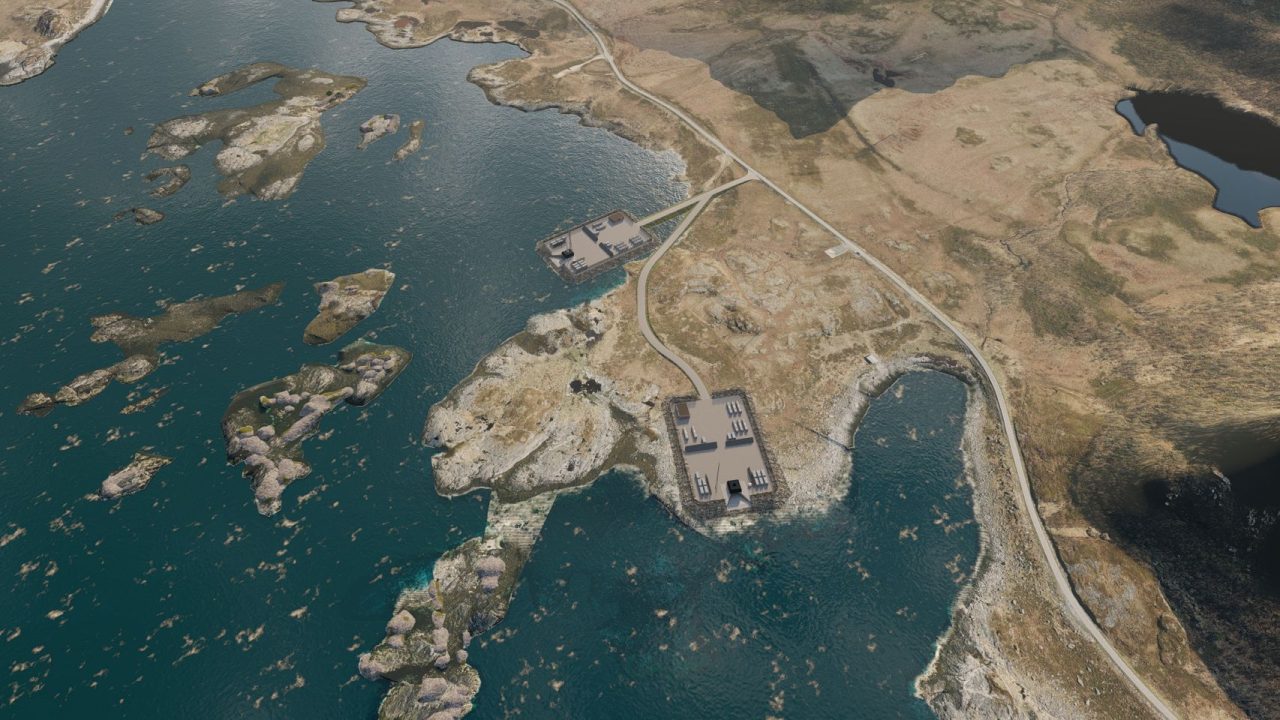 Looking at the security benchmarks done by Andøya, the launch pads will support solid and liquid fueled vehicles with a launch mass of up to 60 tons:
| | | |
| --- | --- | --- |
| Launch vehicle | 2/3 stage solid | 2/3 stage liquid |
| Launch system size | 30 x 2.5 meters | 30 x 2.5 meters |
| Launch mass | up to 60 tons | up to 60 tons |
| Payload | up to 1.5 tons | up to 1.5 tons |
| Propellant | <55 tons of LOX + RP-1 | <55 tons of solid fuel |
| Orbit | Polar and SSO, 700km | |
Launch control, administration and public areas: Where launch crews will work and live
The administrative area on BN06 will be the main facility with 20,000 square meters of facilities and AIT buildings (final rocket assembly, checkup, payload insertion etc.) up to 25 meters in height. The buildings will be used for administration and office functions, as warehouse and for logistics. Buildings AIT1 and AIT2 will be constructed right away, and AIT3 and AIT4 are potential expansions.
In collaboration with Andøya Space, NewSpace North (a newly established subsidiary) plans to create a visitor center with a shared reception area, accommodation for customers, meeting room facilities, coworking areas and more, so it should be a very lively and welcoming place for visitors, employees and the general public. Overall, the main area will be as follows:
Pink/Purple: 4x assembly integration and test buildings (AIT) including space for mission and satellite control in each of them
Yellow: Administrative area with launch control center
Green: Public facilities including the innovation center and a canteen
Turquoise: Housing facilities for ground support crew
Red: Logistics and warehouse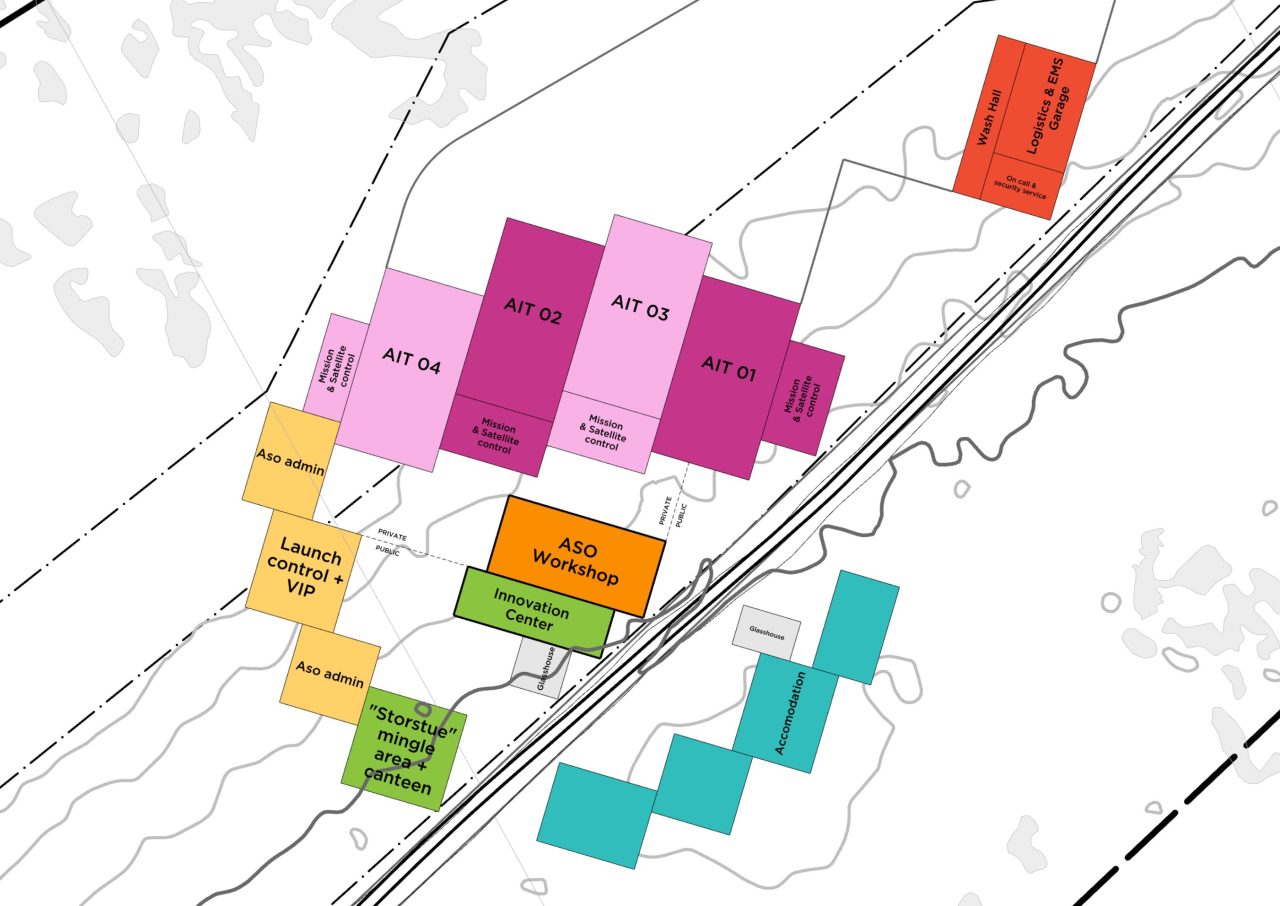 Current developments: Pad A making good progress in 2022
Construction on BN01 and BN02 was officially started in 2022, although with a small delay of a few weeks. Images from satellites and videos from ASC provide insight into the progress that has been made so far and it seems launch pad A and the smaller assembly and launch facilities are making good progress: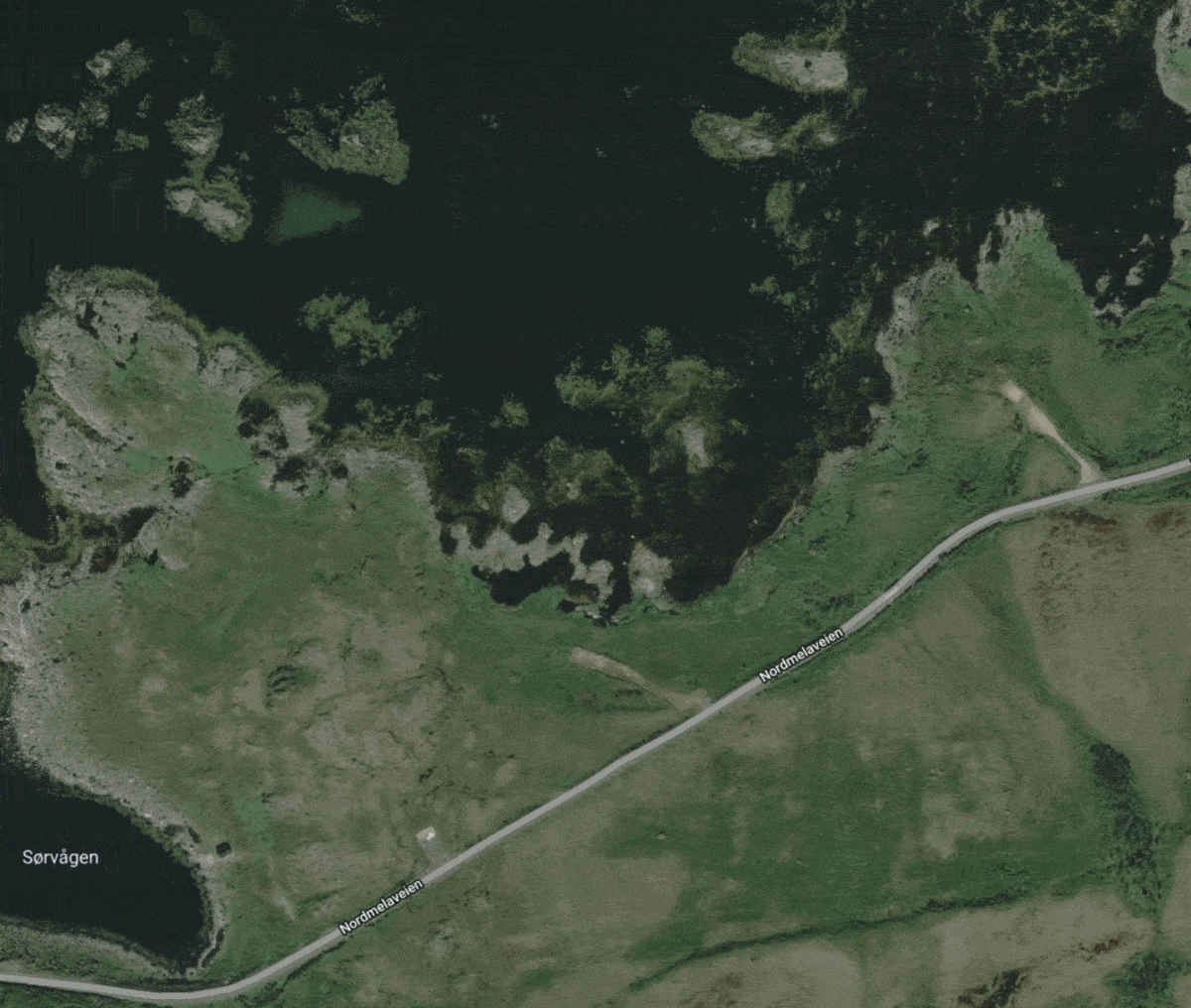 On their LinkedIn and Vimeo, ASC have also posted several updates throughout 2022: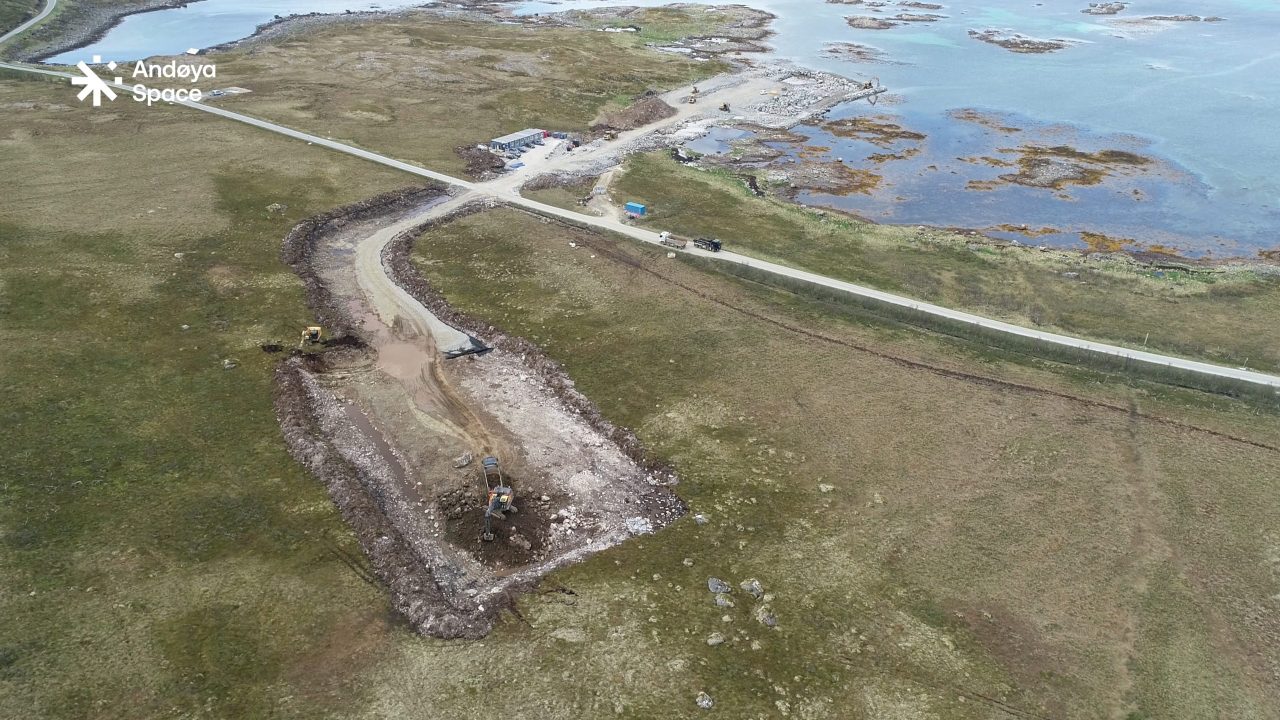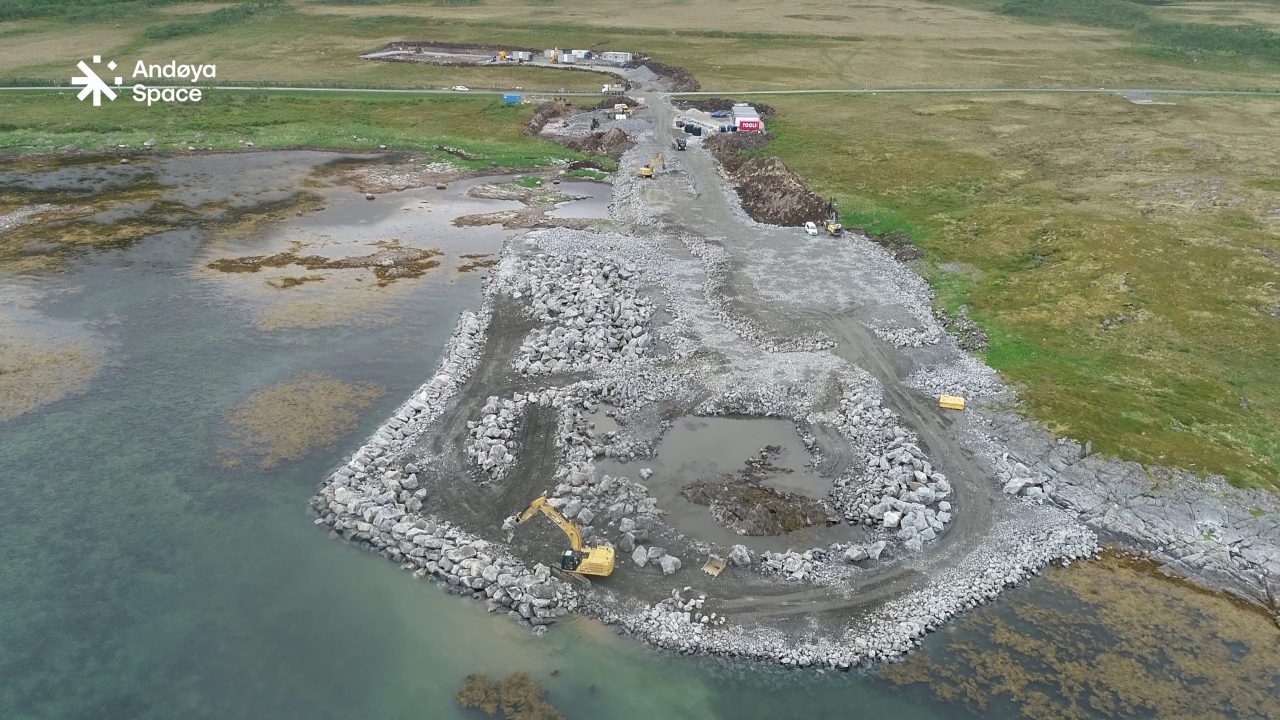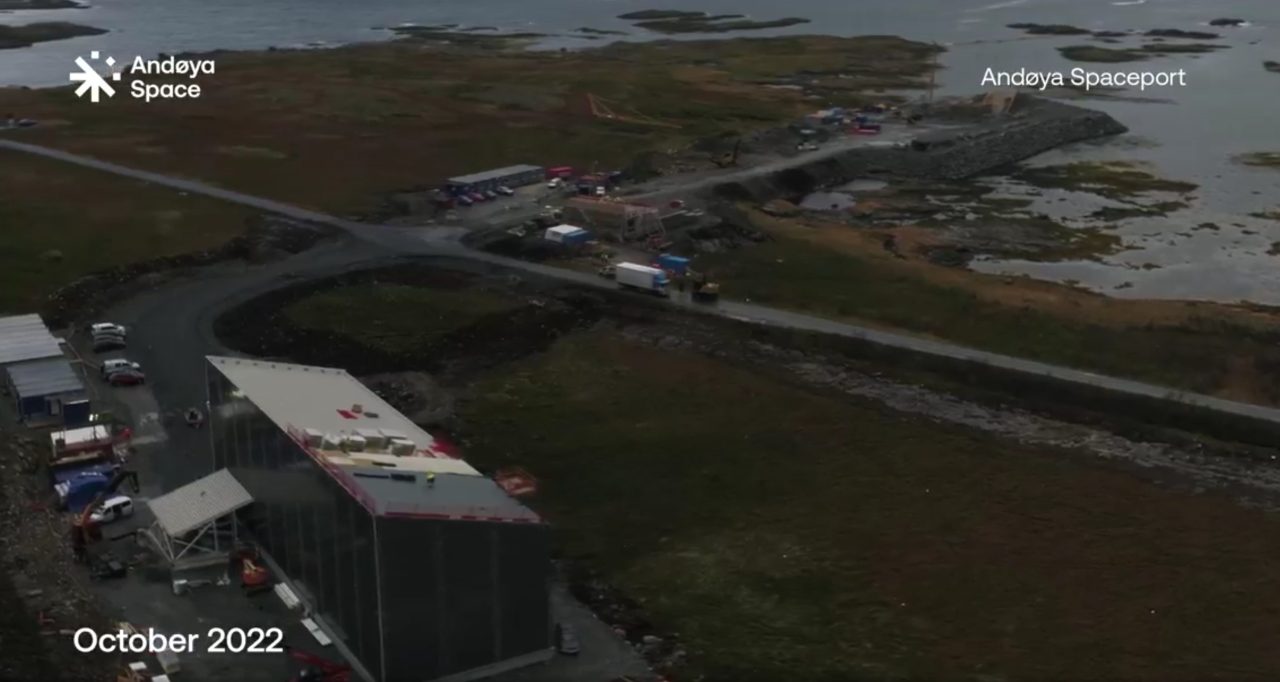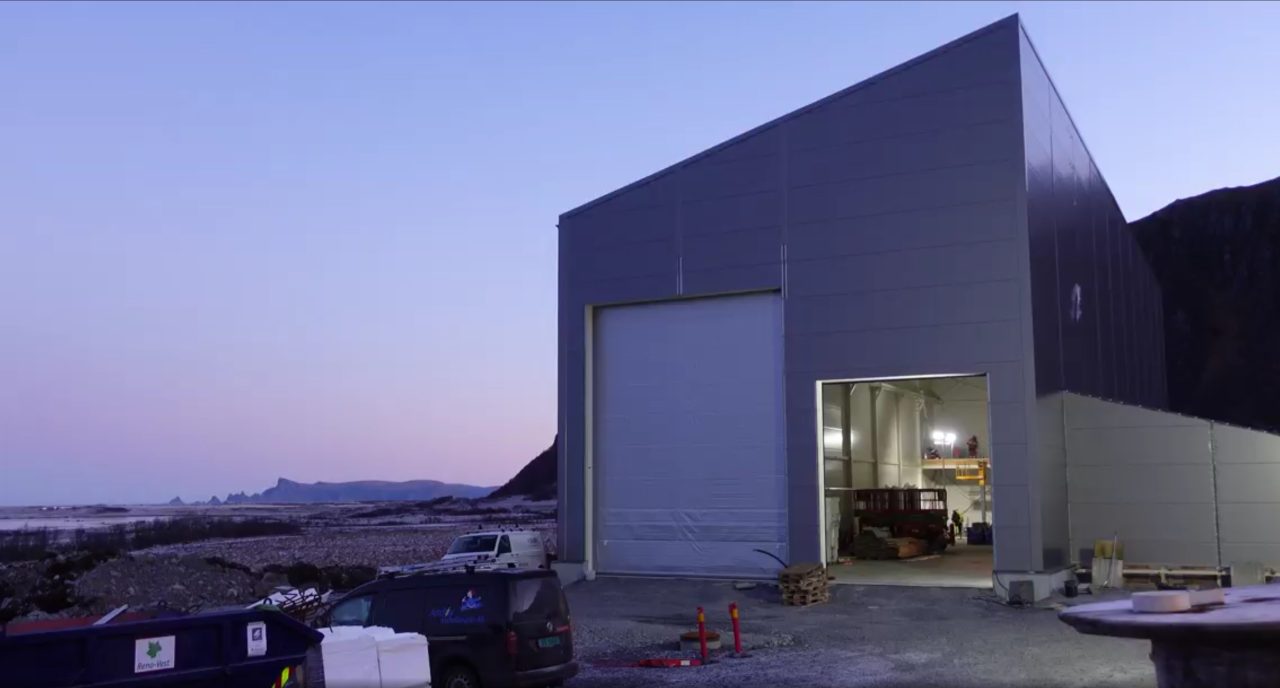 Financing and funding: Investments of around $40 million secured, up to $100 million required
Andøya Space will be a big part of the local, national and European infrastructure and has therefore received NOK 365.6 million ($37 million) in funding from the Norwegian government. Of those, NOK 282.6 million ($29 million) are an investment and a further NOK 83 million ($8.5 million) are state aid and grants. The Norwegian government has also stated that it expects a positive economic return on the investment and ASC has to show such progress. Originally, Andoya Space applied for almost NOK 1.2 billion in funding to construct the new launch site back in 2019, but plans were revised downward after several iterations. Overall costs are still expected to be around 1 billion Norwegian krones over the next years.
The launch site is expected to create around 150 jobs, either directly or indirectly. The jobs will include on-premises work such as payload integration and ground support operations. Logistics chains have to be established for propellant production (like cryogenic, liquid oxygen or hydrogen and similar) and for equipment transfers. Ground support crew will need infrastructure and housing, with each launch expected to house teams of between 10 to 20 people for several weeks on the island, generating further economic activity.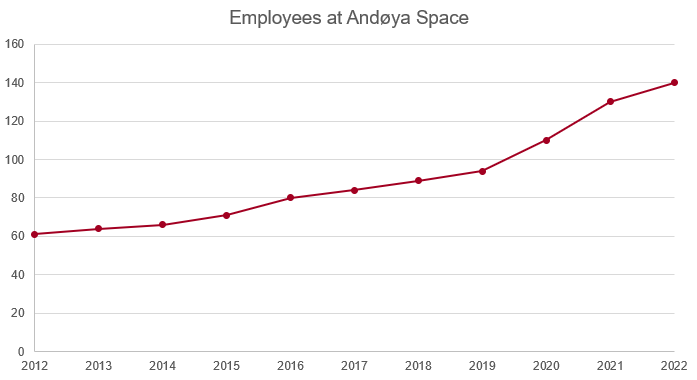 An orbital launch is also expected to increase tourism in the area. The sight of a rocket launch with the Northern lights shining bright in the background is sure to be an absolute beauty.
Andøya Space AS financial overview
For those curious, here are some of the key financial data of Andøya Space AS throughout the last years. We have included operating income and profit for reference, with operating income of around $10 million yearly since 2018. We have also added total assets, showing an increase through financing and increased purchases of land and equipment since 2018. The numbers have been converted into USD for convenience.
| Position | 2021 | 2020 | 2019 | 2018 | 2017 |
| --- | --- | --- | --- | --- | --- |
| Total operating income | $9,796,100 | $7,481,600 | $10,861,300 | $8,972,500 | $5,643,400 |
| Operating profit | $-1,980,000 | $-732,900 | $1,763,500 | $858,100 | $-1,293,300 |
| Annual result | $-726,100 | $-836,800 | $1,539,500 | $1,265,600 | $-737,300 |
| Total assets | $24,775,200 | $22,985,600 | $19,187,200 | $16,307,800 | $9,014,500 |
Source: proff.no
Capital raises done by Andøya Space AS
| Date | Capital Raise | New Capital |
| --- | --- | --- |
| 09/2022 | 55,742,000 NOK | 134,467,000 NOK |
| 06/2022 | 15,725,000 NOK | 78,725,000 NOK |
| 12/2021 | 30,000,000 NOK | 63,500,000 NOK |
| 10/2020 | 28,500,000 NOK | 33,500,000 NOK |
| 01/1998 | | 5,000,000 NOK |
Source: Brønnøysund Register Centre
The future of Andøya Space: Launches, competition and expansion
So far, things are looking very promising for Andøya Space and first launches in 2023. Launch Pad A seems to be finished and things are on course for the initial launch by Isar Aerospace. Andøya has recently been looking for launch operators, safety managers and a few other positions for ground support positions.
While doing our research, we were curious to read about possible recovery operations or whether Andøya will support potential landing sites for reusability. Obviously, getting to space for new rocket companies is the primary goal, but without a proper landing site or recovery operations at sea, (partial) reusability is impossible. While Andøya does not mention that the pads can be used as landing sites – and considering the proximity to populated areas it is probably unlikely – ASC still has a good support infrastructure in place for recovery vessels at sea.
Looking at the bigger picture, Andøya so far seems to be in the lead to become the primary destination for European rocket launches. The ESRANGE site in Kiruna, Sweden is in use by several companies as testing site, and the SaxaVord launch site in Shetland, Scotland has launch contracts secured while it constructs the site.
It is certainly a very exciting time for European space!
Interested in more space? Read our other reviews and analysis