Welcome to our in-depth analysis of Isar Aerospace, most recently updated on April 27rd, 2023. Make sure to check out our mission statement and why we do what we do. Look at our New Space guide if you want explanations of terms and concepts used in our research. And follow us on Twitter for updates.
What you should know about Isar Aerospace
📰 For space enthusiasts
In-house development of Spectrum rocket with 1,000 kg LEO payload capability, 700 kg SSO
First launch planned 2023 from Andøya Space Center in Norway
Gas-generator Aquila engine with 75 kN of thrust (sea-level), 94 kN (vacuum), 300+ second ISP, LOX/propane
Developing and utilizing launch sites in Europe (Norway, Sweden)
Engineering-driven company, founders coming straight out of University
💰 For VCs and industry experts
Europe's best funded new space rocket company with over EUR 330 million in funding
Founder-led company with high profile investors, such as Airbus, Porsche, former SpaceX employees
Signed contracts for EUR 200 million+ potential revenue
Strategic launch spot in Andoya, Norway with exclusive launch pad
Most recently (March 2023) closed EUR 155 million Series C funding round at >800 million Euro post money valuation
👨‍💻 For potential employees
One of the fastest growing rocket companies in Europe
300+ employees, building technology fully from scratch
Seeking hardware and software engineers, material and structural designers, launch operators and business operations
Straight-forward 3-step application process for 3 locations, partially with virtual shares
Salary between EUR 50,000 – EUR 75,000 for engineers, EUR 40,000 – EUR 50,000 for business. Students up to EUR 35,000 p.a.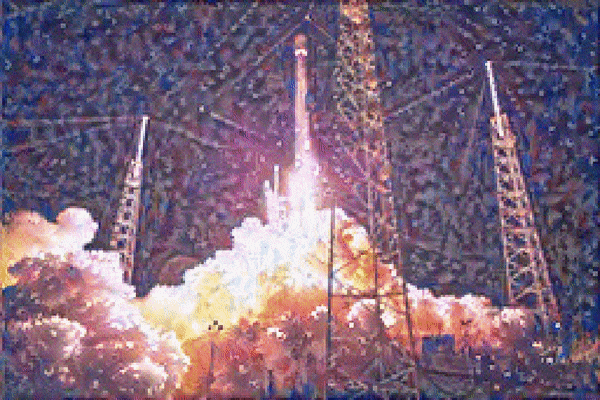 Isar Aerospace: Munich's #1 new space rocket company
Isar Aerospace is a German new space company that has raised over 330 million Euro in funding, positioning it as one of Europe's most well-funded launch startups. The company is currently focused on developing its Spectrum rocket, a two-stage liquid-fuel rocket designed to launch payloads of up to 1000 kilograms into orbit. The Spectrum rocket is expected to make its debut in 2023 from Andøya Space Center, potentially making it a key player in the future of European space launch. Isar Aerospace's significant funding and innovative technology position it as a company to watch in the coming years.
What exactly makes Isar Aerospace special? How does Isar Aerospace's offering compare on a German, a European and an international level? What are launch prices, signed contracts and the likelihood of success? How long until Isar will launch their first rocket? We'll be diving a bit deeper into Isar Aerospaces background, from their founders to funding to financials and the future.
Who is Isar Aerospace? A background on the German rocket company
Early beginnings: From a rocket prototype to ESA incubators and first funding
Isar Aerospace was founded in February 2018 by Josef Fleischmann, Daniel Metzler and Markus Brandl, a German and two Austrian citizens living and studying in Munich, Germany. The company, officially Isar Aerospace Technologies GmbH, has the goal of "developing, industrial manufacturing and qualification of rocket engines and components for the rocket, launch and space industry".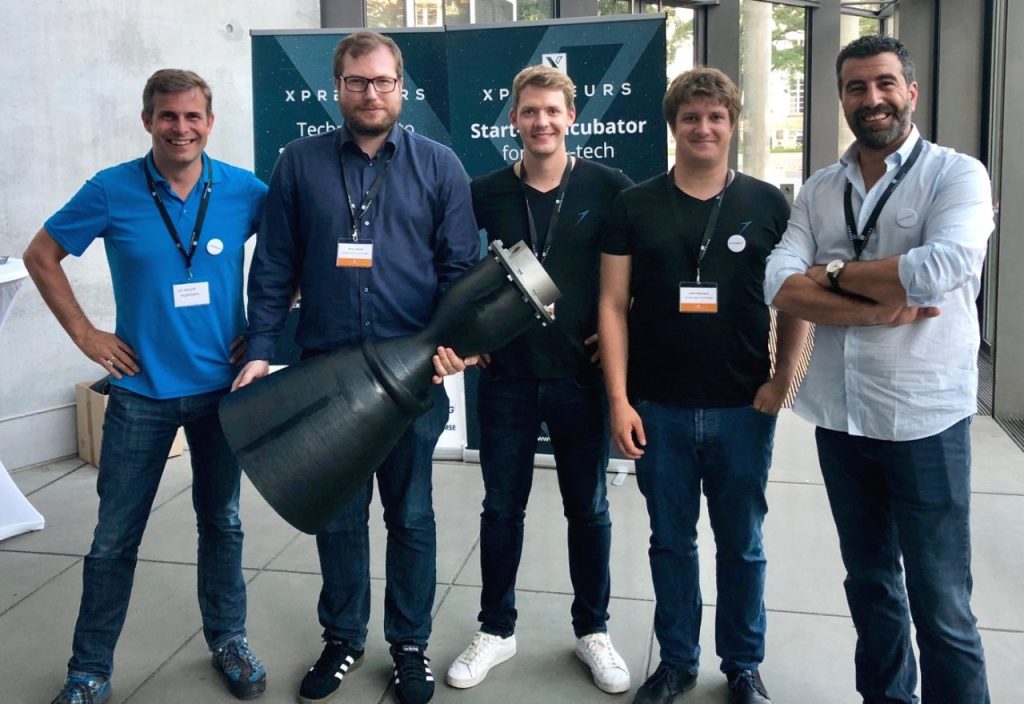 The three students, whose paths first crossed during their university years in 2017 at the Technical University Munich's TUM-Student Group "WARR" (Wissenschaftliche Arbeitsgemeinschaft für Raketentechnik und Raumfahrt – Scientific Working Group for Rocket Technology and Space Exploration), where they developed a small engine named Finch. Their initial test videos evoked interest and they made use of Munich's aerospace ecosystem, including such programs as Xpreneurs Incubator third batch of startups and their "Makerspace", and then further received backing from European Space Agency's (ESA) "Business Incubation Center" in Oberpfaffenhofen, a small town near Munich. The founders quickly raised funds from the venture capital (VC) arm of their alma mater, Technical University Munich called Unternehmertum Venture Capital Partners (UVC Partners), as well as from VC Vito Ventures and former SpaceX executives and early employees, David Giger and Bülent Altan.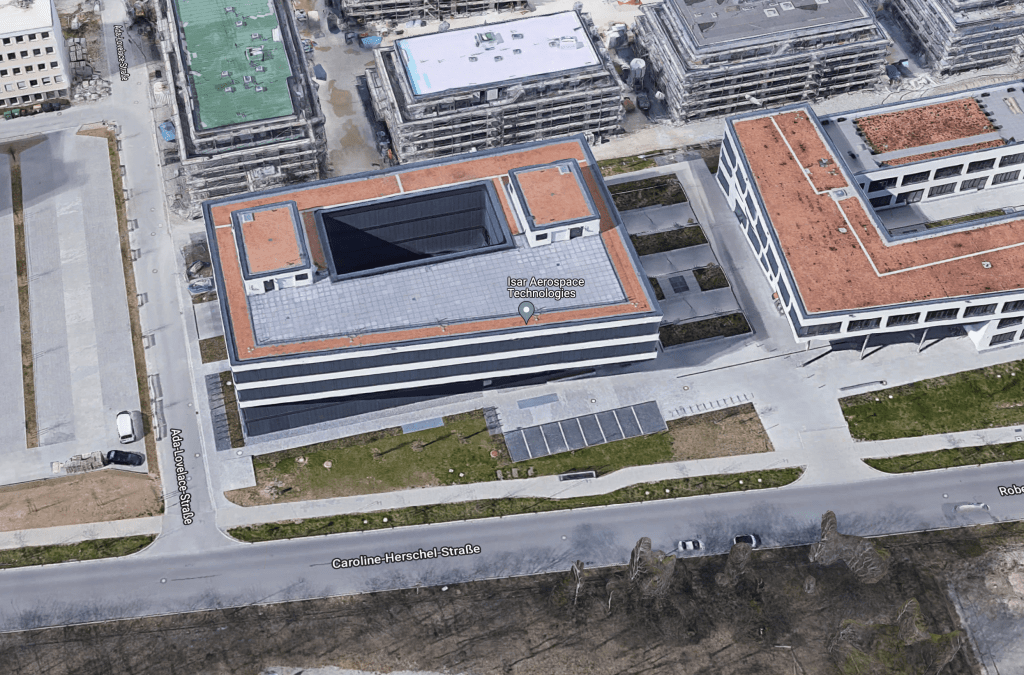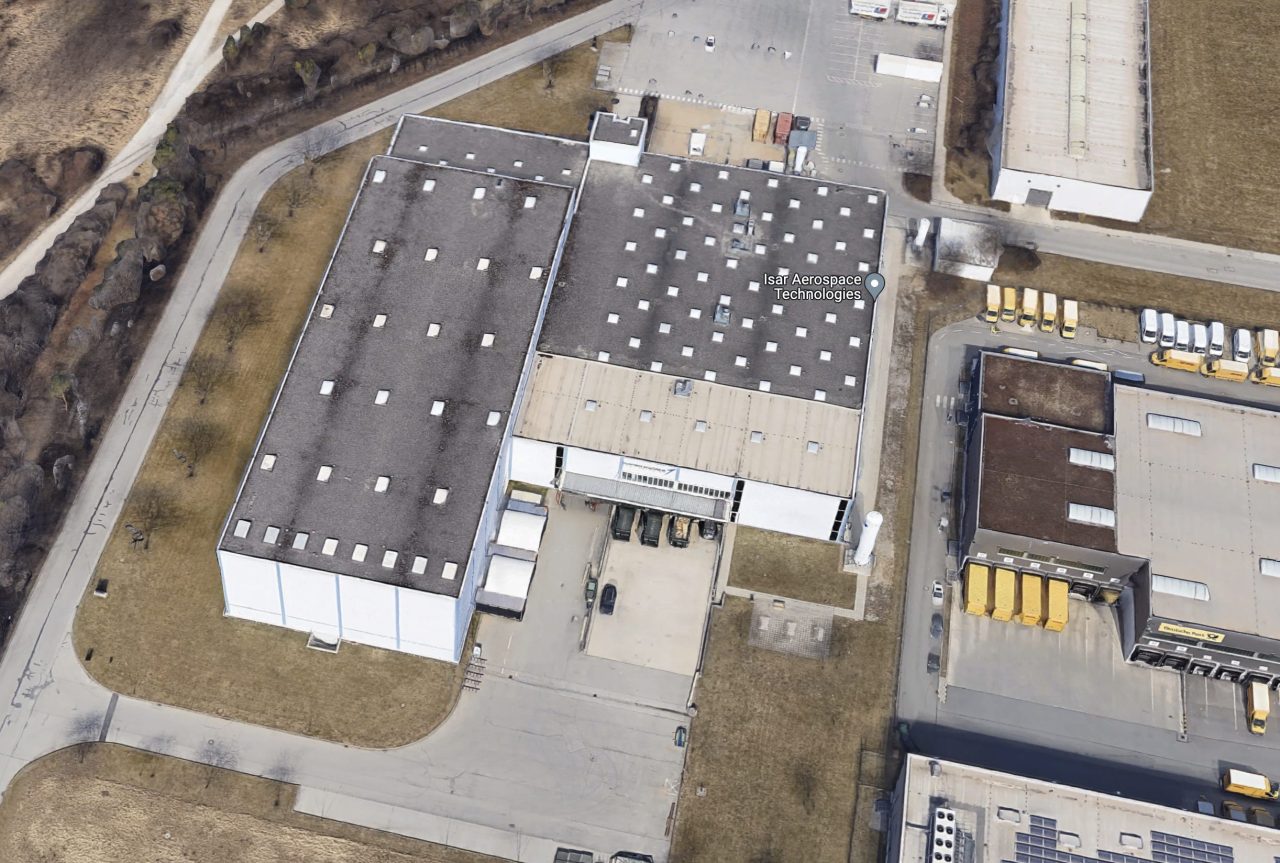 Building a product: Isar Aerospace's "Finch" and "Aquila" engines and Spectrum Rocket
Their initial beginnings in 2017 and 2018 were around developing the pressure-fed "Finch" engine, a LOX/hydrocarbon alternative with a thrust of 2 kN ("vac", meaning vacuum, a rocket used in the vacuum of space, "kN" meaning kilo Newton, a measurement of thrust) and a burn time of 600s+. The 40 kN Aquila SL ("SL", meaning sea-level, a rocket engine used on earth) gas-generator engine, also based on liquid oxygen ("LOX")/hydrocarbon propellants, was their initial orbital class rocket, with a burn time of 400s+ and initially planned to be reusable.
In 2019, Isar updated their specs and technological roadmap, dropped the Finch engine from development and updated the Aquila rocket engine to a thrust of 75 kN and introduced the Spectrum rocket, a two-stage launch vehicle designed for satellite constellation deployment. The target payload is 1,000 kg to low earth orbit ("LEO") – sometimes also projected to be 1200 kg – and 700 kg sun-synchronous-orbit with a multi-ignition second stage engine. By mid 2019, Aquila's vacuum-thrust was updated to 94 kN with a burn time of 230s (updated to 300s in 2021), whereas their the Aquila SL engines – of which 9 would be used on the first stage – provided a total of 675 kN with a burn time of 140s. (updated to 150s in 2020). Further information included a length of 27 m with a 2 m diameter, 10 engines (9 on the first, one on the second).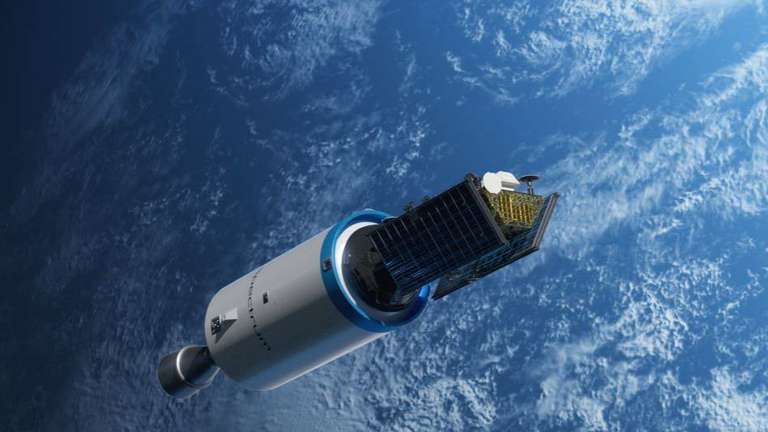 With their first big Series A funding of $17 million completed in December 2019, Isar was ready to take off, accelerate development and expand in 2020. This culminated in a hiring spree, doubling headcount from around 50 at the end of 2019 to over 100 at the end of 2020. In September 2020, they successfully opened their 4500 square meter production hall in Ottobrunn on the outskirts of Munich with prominent participants such as Bavaria's minister of state Dr. Markus Söder, signalling high level political support. Continuing strong and showing that their technological progress on their rocket was working well, they closed their Series B at the end of December 2020 at $90 Million, with existing investors and adding new VCs like Lakestar, Vsquare Ventures, Christian Angermayer's Apeiron and German government backed KFW Ventures. The largest funding round to date was their Series C with EUR 155 million from existing investors, primarily from existing and a few new investors, such as 7-Industries Holding and Bayern Kapital.
Isar Aerospace's current (and former) rocket engines: Aquila and Finch
---
Finch (scrapped)
Former Isar engine
Pressure-fed LOX/hydrocarbon
2 kN of thrust (vacuum)
Burn time: 600s+
---
Aquila (SL)
First stage engine
LOX/hydrocarbon
75 kN of thrust
Burn time: 150s+
---
Aquila (Vac)
Second stage engine
LOX/hydrocarbon
94k N of thrust (vacuum)
Burn time: 300s+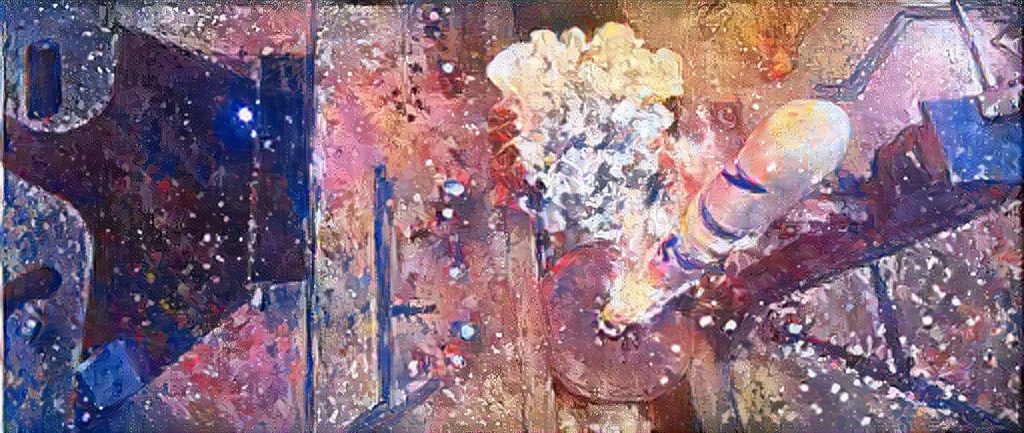 Commercialization: Spectrum's potential, finding the niche and launch site
In 2021, Isar Aerospace's commercialization effort took further hold. Payload guides and the possibility of booking flights was enabled on their website, with customers being able to choose between "Dedicated", "Lead" or "Rideshare"-slots. Luckily, more and more work regarding transparency was done and Isar opened their doors for behind the scene looks into their factory and a first visualization of a potential Spectrum launch.
Isar further announced their launch site publicly in April 2021, which would be from Andøya Space Center in Norway, favoring sun synchronous as well as polar orbits. As one of the first commercial rocket companies, Isar was also granted the license to use ESA's spaceport in Kourou, French Guyana, announced in July 2022 – the go-to spaceport for European and ESA-backed launches. This makes Isar Aerospace one of the first private rocket company to launch from Kourou, alongside Rocket Factory Augsburg.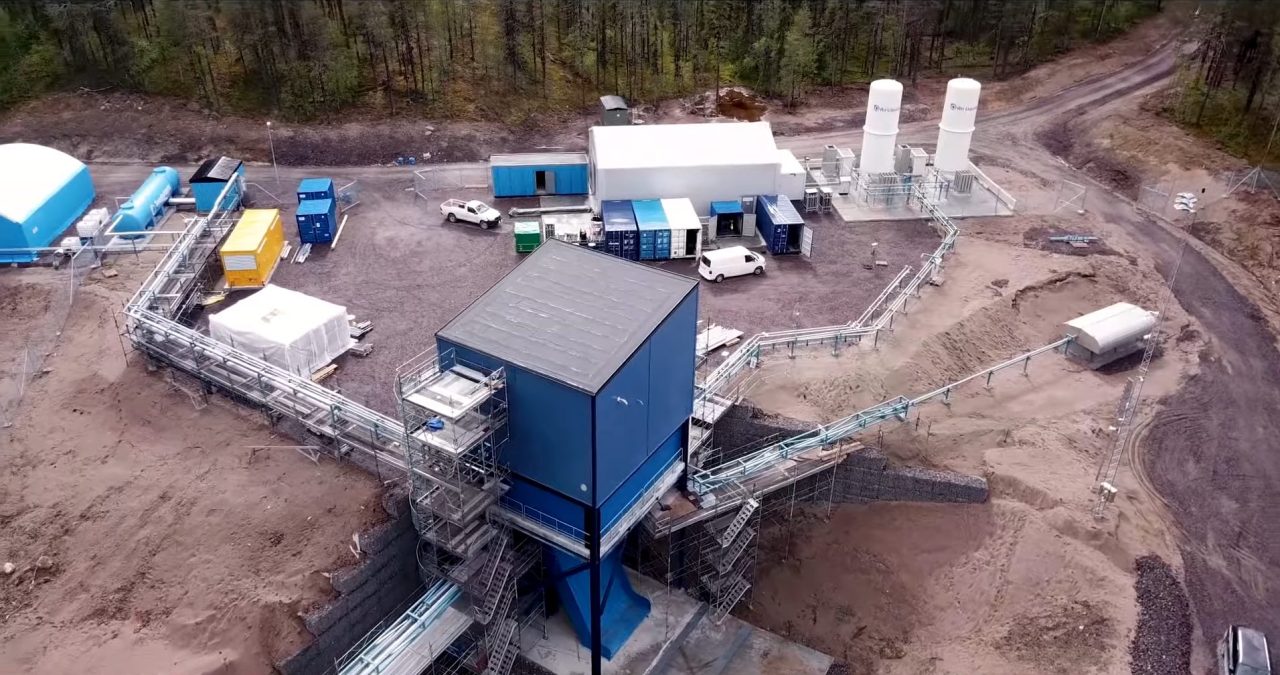 Isar also has been using Kiruna's Swedish Space Station in Lapland for testing purposes since January 2020. In 2021, around 15 of their employees were based in Sweden and as of April 2023, there are over 40 employees working in Kiruna. Their local testing is currently done in a small village outside of Munich called Reischach, where they have set up test containers. Of course, locals have already started complaining that every once in a while, there are loud noises emitting from the site – petitioning the local government to ban it outright.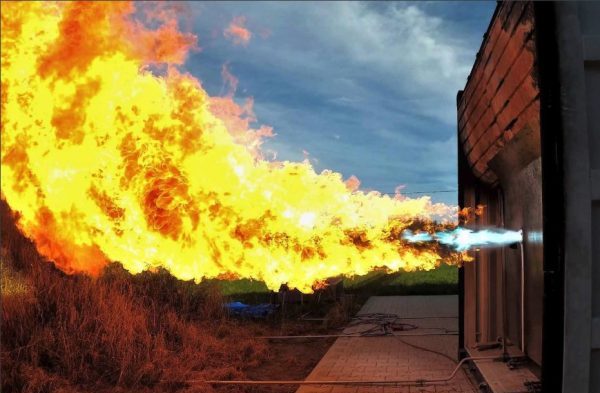 Isar once showed interest in Portugal's launch site in the Azores, though it does not seem likely anything will happen here.
Isar Aerospace: A truly European rocket company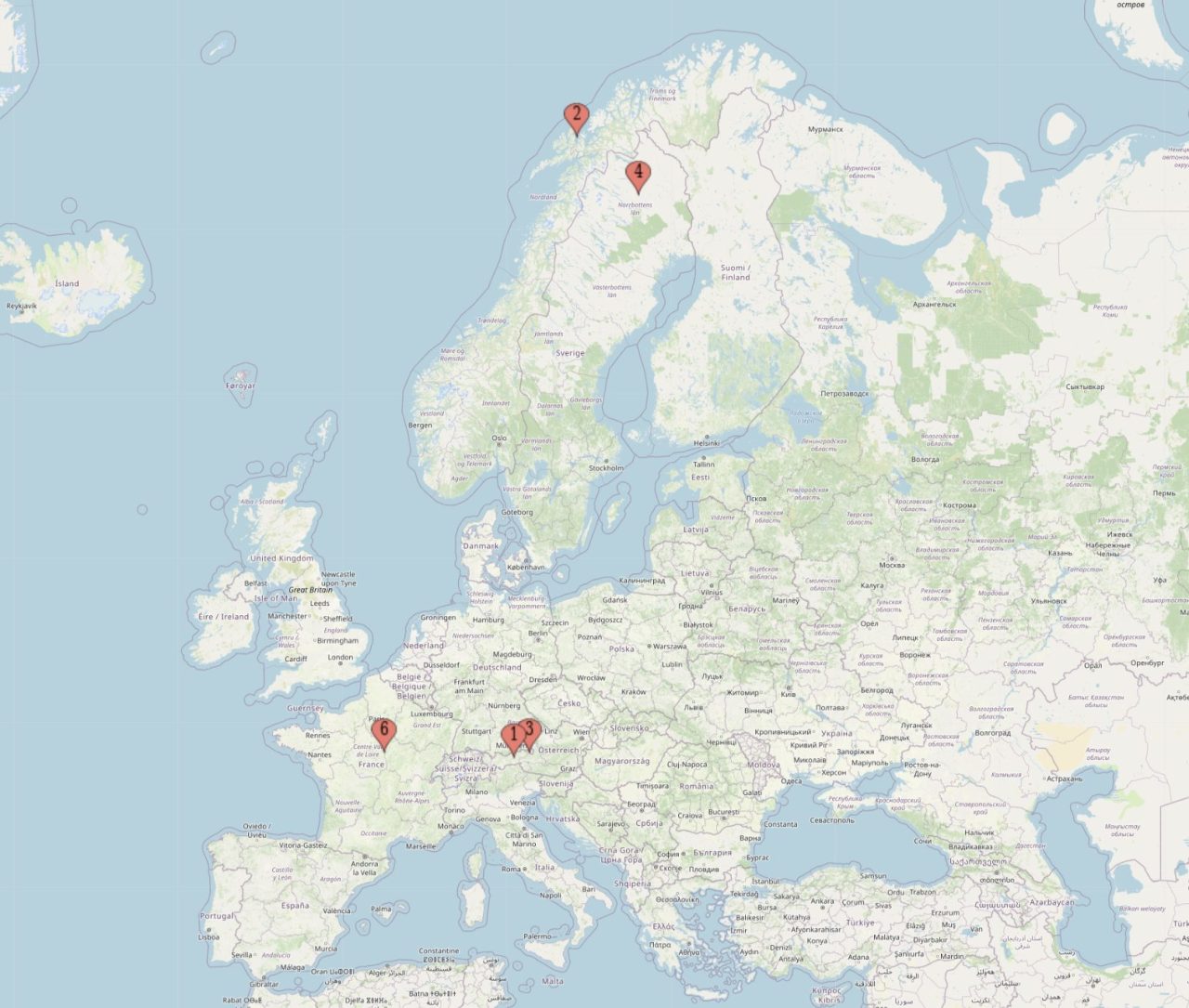 Track record: Contracts with Airbus, Ororatech, Endurosat and more

| Launch Partner | Signed on | Launch Horizon | Type | Orbit | Spaceport |
| --- | --- | --- | --- | --- | --- |
| Airbus Defense | 04/2022 | | Defense | LEO | Andøya Space Center, Kourou Space Port |
| Astrocast | 12/2022 | 2023 – 2025 | Commercial | SSO | Andøya Space Center |
| D-Orbit | 06/2022 | 2023 | Commercial | SSO | Andøya Space Center |
| DLR Microlauncher | 05/2022 | 2023 | Scientific / Governmental | LEO | Andøya Space Center |
| EnduroSat | 09/2022 | | Commercial | | Andøya Space Center |
| Exotrail | 11/2022 | 2024 – 2029 | Commercial | LEO, GTO | Andøya Space Center, Kourou Space Port |
| OroraTech | 09/2022 | 2023 – 2027 | Commercial | SSO | Andøya Space Center |
| Spaceflight | 01/2023 | 2025 – 2026 | Commercial | SSO | Andøya Space Center |
Isar Aerospace Business Model: Strategy, Prices and Resuability
Isar has a unique strategy, because it plans to develop and manufacture as many parts as possible in-house. With this vertical integration-approach, the company tries to achieve significant cost savings and propietary technology for long-term market share and dominance. This sets Isar apart from companies such as RFA, who plan to buy around 40% of their components as off-the-shelf products, while focussing on pricing and flight services.
In terms of business strategy, this of course means a much higher learning curve and a lot more capital required to get to launch and production.
Since Isar uses a "vertical integration" approach, let's take a look at the capital Isar might need to get to production. Let's look at the price to build a veritcally integrated rocket (company):
SpaceX's Falcon 1 cost around $100 million to develop
SpaceX's Falcon 9 cost around $350 – $400 million to develop
Rocket Lab's Electron cost around $175 million to develop
So far, Isar has raised around EUR 330 million to develop Spectrum, plus grants, plus potential prepayments from their signed contracts, meaning that they are in a position to get their rocket to launch and initial operations.
Isar Aerospaces launch pricing
According to Isar Aerospace's own plans, the rocket company aims to launch their first expendable Spectrum rockets for a price tag of around EUR 10 million per launch (previous estimates have also been between EUR 10 million and EUR 15 million). With a LEO-capacity of around 1,000 kg and an SSO capacity of 600 – 700 kg per launch, this leaves a price-tag of €10,000 to €15,000 per kilogram to LEO or around €15,000 – €25,000 per kg to sun-synchronous orbit.
Let's put the number into context:
Market for small launch vehicles
European competition
The international market for small launch vehicles is currently being targeted by companies such as Rocket Lab's Electron rocket in the US, Long March 11 in China and ArianeSpace's Vega in Europa. All those have launch prices between $10,000 per kg (China) and $20,000 – $25,.000 per kg (Europe and US). Ride-sharing with the market leader, SpaceX's Falcon 9 will cost customers only around $1,500 – $2,500 per kg.
Looking at the European competition, Isar is competing with ArianeSpace, who offer the Vega rocket and Ariane 5ES (and Ariane 6 in the future). Both Ariane 5 and Ariane 6 have a price tag of around $7,500 kg per launch, whereas Vega and the next iteration Vega V are targeting a "lower price tag".
In terms of national competition, Rocket Factory Augsburg aims to go as low as €2,500 per kg, while initial launches will be at around €10,000 per kg – though they have, just like Isar, yet to prove themselves. Overall, dedicated rides, higher cadence and higher reliability give Isar advantages to compete with a steeper price than existing, government funded rockets. They're however in high competition to other commercial providers.
Isar Aerospace: Moving towards reusability – in the future
Obviously, reusability is on the company's mind and has been from the beginning. When they founded the company, SpaceX was already regularly landing their boosters. Official strategy has been published only a few times, such as at the IAC2021 in Dubai, where they express "major interest on their side in understanding the potential of reusability. Nevertheless, their primary attention at the moment is getting their systems flying and reaching orbit, even as an ELV."
Isar's plan seems to be the following:
Develop and produce as much of the technology needed to build a rocket in-house
Build the rocket and get it to low-eart orbit with a capacity of around 1000 kg
Iterate to reduce costs and become financially stable
Develop technology for reusability until the year 2030
Considering they have secured contracts to launch over 20 times already, this means they have at least EUR 200,000,000,- in potential revenue if they reach orbit.
A look at Isar Aerospace's cost and pricing strategy: Medium to medium-high priced small launcher
Isar Aerospace: Funding and financials
After looking at the business model from a pricing perspective, let's look at the Isar Aerospace's funding history. So far, Isar has raised around EUR 170 million through venture capital firms, corporates and different grants. Around 160 million Euros came through their Seed, their Series A and their Series B round. Another 155 million Euros were raised in their Series C in April 2023.
| Date | Total Shares | Funding | Valuation |
| --- | --- | --- | --- |
| 10/2018 | 31,048 | 2,500,000 € | 13,000,000 € |
| 12/2019 | 49,170 | 16,000,000 € | 44,000,000 € |
| 12/2021 | 86,552 | 138,000,000 € | 320,000,000 € |
| 04/2023 | 106,459 | 155,000,000 € | 829,000,000 € |
Isar Aerospace so far has been valued at EUR 10 to EUR 13 million in their seed round, after raising a "few million" from investors such as Vito Ventures and Unternehmertum, leaving the exact amount unclear. We've estimated 2.5 million Euro.
In their Series A in December 2019, they raised EUR 16 million, including existing investors plus new investor Bülent Altan, former SpaceX VP, Earlybird Ventures, Airbus Ventures and Kupke GmbH.
In August of 2020 (officially in December 2020) they closed their first part of the Series B with EUR 75 million in funding, which included existing investors and new investors such as Vsquared Ventures, HV Holtzbrinck Ventures, Lakestar Growth Fund, Apeiron, Lombard Odier and Porsche SE. Just taking this initial funding, they were valued at around 500 million Euro. If you take into consideration their "extended Series B", which closed in July 2021 (officially in December 2021) to raise another 63 million Euro, their valuation was at a more reasonable EUR 320 million post money (raising EUR 138 million by issuing >40% of new shares).
As of February 2023, according to unconfirmed reports, Isar was looking for EUR 200 million at a valuation of around 1 billion Euros, which was subscribed by at least EUR 50 to 70 million. The Series C Isar Aerospace Funding was confirmed in March 2023 at EUR 155 million. Company records show that Isar issued 19,907 new shares, bringing the total to 106,495 shares and valuing Isar Aersospace at around € 830 million post money.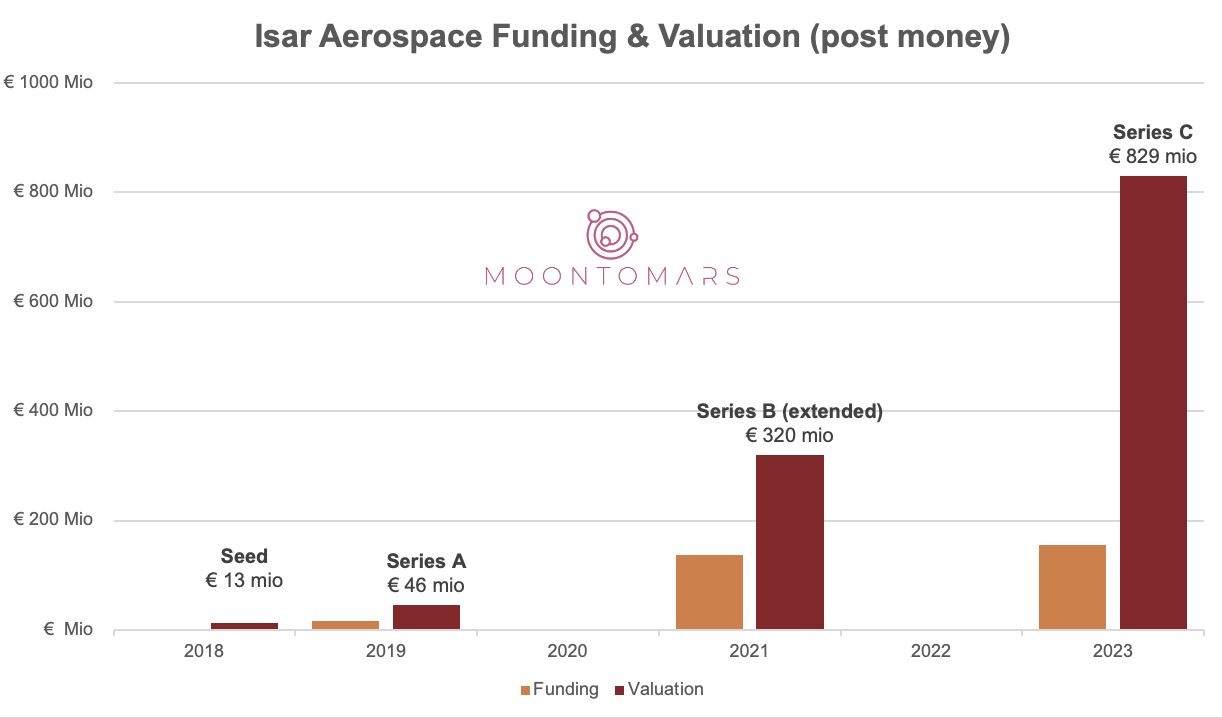 My opinion on Isar Aerospace and why you should keep an eye on them
What I like about Isar Aerospace
Founder-led: Highest funded private launch company in Germany and Europe. EUR 170 million in funding could already be enough to reach orbit. It is quite remarkable for such funding numbers to be achieved in Europe, let alone Germany
Expertise: Bülent Altan and ex SpaceX-managers have invested in the company, with high ranking VCs and support from corporates giving them political capital.
Straight out of university: Privately funded, founded by students coming straight out of university. This is - so far - shaping up to be a great success story and something that is quite rare coming out of Germany
What I don't like about Isar Aerospace
Time to reach orbit: The initial launch has been postponed several times with new targets for 2023 and 2024. Isar has signed several contracts already, but time is certainly ticking. Let's hope they will be able to produce several vehicles in the next 6 to 12 months, or close another massive funding round. They'll certainly have a heavy cash-burn of what we assume must be around Euro 4 to 8 million per month.
Sustainable - kinda: Focussing PR on green propellants and disregarding the fact that these are rockets that will be "thrown away" is like applauding Airbus for using hydrogen fuel for planes that can only be flown once. I can however understand that this is what the European public likes to focus on so it certainly makes sense from a PR perspective.
Things to watch out for
Expanding cap table: With large corporates, several VCs and semi-governmental entities, using the more person-oriented structure of a GmbH (Gesellschaft mit beschränkter Haftung - limited liability company) instead of a share-based approach (AG, Aktiengesellschaft - joint-stock company) could pose issues down the line. The founders no longer have a veto right according to the share register (less than 25%), which they gave up in their Series C round. The cap table currently has 25 different shareholders including the founders. Further dilution at least on the financial side comes from virtual shares issued to employees.
Where to find more information on Isar Aerospace
Isar Aerospace: Jobs and career
If you want to know about more about how Isar Aerospace works, what products and technologies they use and how it is like to work there, we'll have you covered in this section. Generally, from what we gather, German language skills are not a necessity for a job at Isar. The environment generally supports and welcomes English speakers, though German certainly helps. Some jobs even welcome French skills, probably due to France's significant role in the European aerospace ecosystem.
Isar Aerospace: Salary, benefits and employee participation
In terms of salary, you can expect decent wages even though technically, Isar is still a startup. They might not pay you top-dollars right away, but German wages are pretty decent and Isar needs to attract significant talent. We estimate that engineers with university degrees or significant experience should yield between EUR 50,000 - EUR 75,000 base salary per year (before taxes). Employees in business administration or marketing are expected to make closer to EUR 35,000 - EUR 45,000. Working students or students writing their master thesis can still earn up to EUR 35,000 per year while earning significant experience. Higher level jobs or jobs with significant responsibility also offer virtual shares (ESOP) to participate in company success, such as through an "exit" (the company gets bought out) or for dividend payments.
Overall, the working culture is described as modern and with flat hierarchies. Some of the benefits that Isar offers (depending on the position):
30 days holiday
Subsidised lunch
Individual learning budget
Virtual company shares
Sport club membership
Customized company pension plan
How do things actually get done at Isar? Skills, tools, software that you should bring
New space companies have to somehow figure out how to build a rocket from scratch. That usually includes developing things virtually first, building up infrastructure, using low cost ways of manufacturing (aka: 3D printing) and then putting it all together to see whether it works in theory (simulations) and practice (launching rockets). To give you some idea of what tools Isar uses and what you should learn or experiment with, here is a list of some of the methods in use at the new space company:
Software and CAD (Computer Aided Design)
Simulation
Ansys and INNEO simulation solutions
Altair Hypermesh (experience with Optistruct or Nastran helpful as well)
m+p vibPilot/vibRunner/vibMobile
Manufacturing and additive manufacturing
Beckhoff TwinCAT3 for manufacturing automation
3DXpert, Materialise Magics or hyperMill (CMM software such as polyworks or Calypso also work)
Working with machines such as Hermle C 42 U, EOS M 290 Metal Printers, AMCM, DMG Nori NXL 2000 / 500, Solukon depowdering machines and similar products
Business
Office, MS Dynamics, SAP and DATEV
Figma, Framer or Adobe XD for design works
Highlights: German Rocket Companies fighting German bureaucracy
During our research, we stumbled upon some "highlights" (or maybe "lowlights?") of trying to build a rocket company in Germany. Let me quote you some of the restrictions and motions they had to go through so far. This one is just to be allowed to open up a gas generator test stand. I'm including the German words on purpose for "ze full effekt":
Isar wanted to erect and operate a gas generator test stand ("Gasgeneratorprüfstand") in Reischach, Bavaria. The test stand for gas turbines with a firing heat output ("Feuerungswärmeleistung") of less than 200 megawatts is subject to the "law on air pollution control" ("Immissionsschutzrecht"). For this, they had to apply for an "air pollution control permit" under §§ 4 and 19 BImschG ("Bundes-Immissionsschutzgesetz") in conjunction with §§ 1 para. 1, 2 para. 1 of the "Ordinance on plants requiring approval" (BImSchV - Verordnung zur Durchführung des Bundes-Immissionsschutzgesetzes, not to be confused with the "BImschG"!). They also need it in conjunction with No. 10.15.2.2 Procedure type (V) of Annex 1 to the 4th BImschV. The original: "immissionsschutzrechtliche Genehmigung nach §§ 4, 19 Bundes-Immissionsschutzgesetz und Nr. 10.15.2.2 Verfahrensart (V) des Anhangs 1 zur 4. Verordnung zur Durchführung des Bundes-Immissionsschutzgesetzes".
Thankfully, in the run-up to the approval process, a site-specific preliminary examination of the individual case was carried out in accordance with § 7 para. 2 of the environmental impact assessment act UVPG ("Gesetz über die Umweltverträglichkeitsprüfung") in conjunction with point 10.6.3 column 2 of Annex 1 to the UVPG ("§ 7 Abs. 2 Gesetzes über Umweltverträglichkeitsprüfung i. V. m. Ziffer 10.6.3 Spalte 2 der Anlage 1 zum Gesetz über die Umweltverträglichkeitsprüfung eine standortbezogene Vorprüfung des Einzelfalles"). The rough examination based on the "criteria of § 7 para. 2 sentence 3 UVPG in conjunction with Annex 3 to the UVPG" showed that - thankfully - the project has significant negative impact on the environment that would need to be taken into account (§ 7 para. 2 sentence 5 UVPG). So it all worked out in the end.
Or, to put a picture in your head, it was about a permit for these little blue containers which make noise for a few seconds every once in a while on a workday: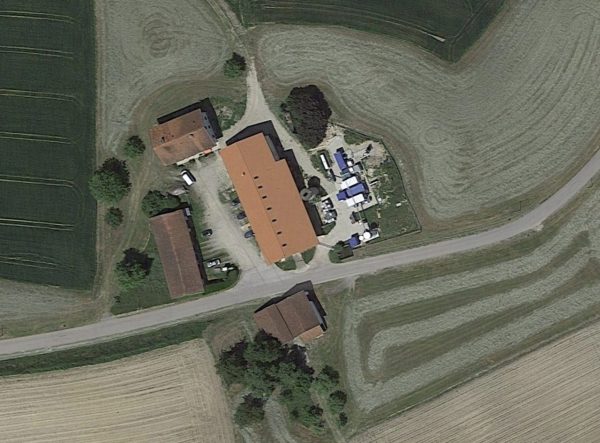 Again, this was just the permit for the gas generator test stand, already situated around 75 kilometres away from their headquarter in Munich because Germany basically lacks any sort of non-populated areas. But of course, even with the permissions, there've been quite a few complaints and official petitions to cancel the test site.
Structured company information on Isar Aerospace Technologies GmbH
| Type | Information |
| --- | --- |
| Official Company Name | Isar Aerospace Technologies GmbH |
| Founded in | February 2018 |
| Management | Daniel Metzler, Josef Fleischmann |
| Founding Investors | Daniel Metzler, Josef Fleischmann, Markus Brandl |
| Locations | |
| Headquarter | Caroline-Herschel-Straße 2, 85521 Ottobrunn, Germany |
| Launch Site | Andøya Space Center, Norway |
| Launch Site | Esrange Space Center, Sweden |
| Test site | Kolbersberg 102, 84571 Reischach, Germany |
| Subsidiary | Nanteau-sur-Lunain, France |
| Subsidiary | Washington DC, USA |
| Contact | |
| Instagram | Isar Aerospace Instagram |
| Twitter | Isar Aerospace Twitter |
| LinkedIn | Isar Aerospace LinkedIn |
| Facebook | Isar Aerospace Facebook |
Interested in more space companies? Read our other reviews and analysis