Welcome to our in-depth analysis of the German Offshore Spaceport Alliance. Make sure to check out our mission statement and why we do what we do. Look at our New Space guide if you want explanations of terms and concepts used in our research. And follow us on Twitter for updates.
What you should know about the German Offshore Spaceport Alliance (GOSA)
📰 For space enthusiasts
GOSA is developing a vertical rocket launch platform ("spaceport") for Germany
The launch site will be mobile from a large ship at the north-western most point of Germany's EEZ in the North Sea
Platform supports launches for ca. 1 ton of payload (polar/SSO) and up to 25 launches per year
Launches are planned to start in 2023, though the date seems unlikely. 24/25 more realistic
💰 For VCs and industry experts
GOSA is backed primarily by OHB SE, one of Germany's largest space corporations
Further players include MediaMobil, Tractebel DOC and Harren & Partner
GOSA is requesting funding from the federal government, with estimates at €22 to €30 million
Launch prices could start at €600,000 for launch companies
👨‍💻 For potential employees
GOSA (or OHB) is not hiring publically and is still "under the radar" and in the process of developing the launch platform
Team primarily consists of leadership from OHB and its partners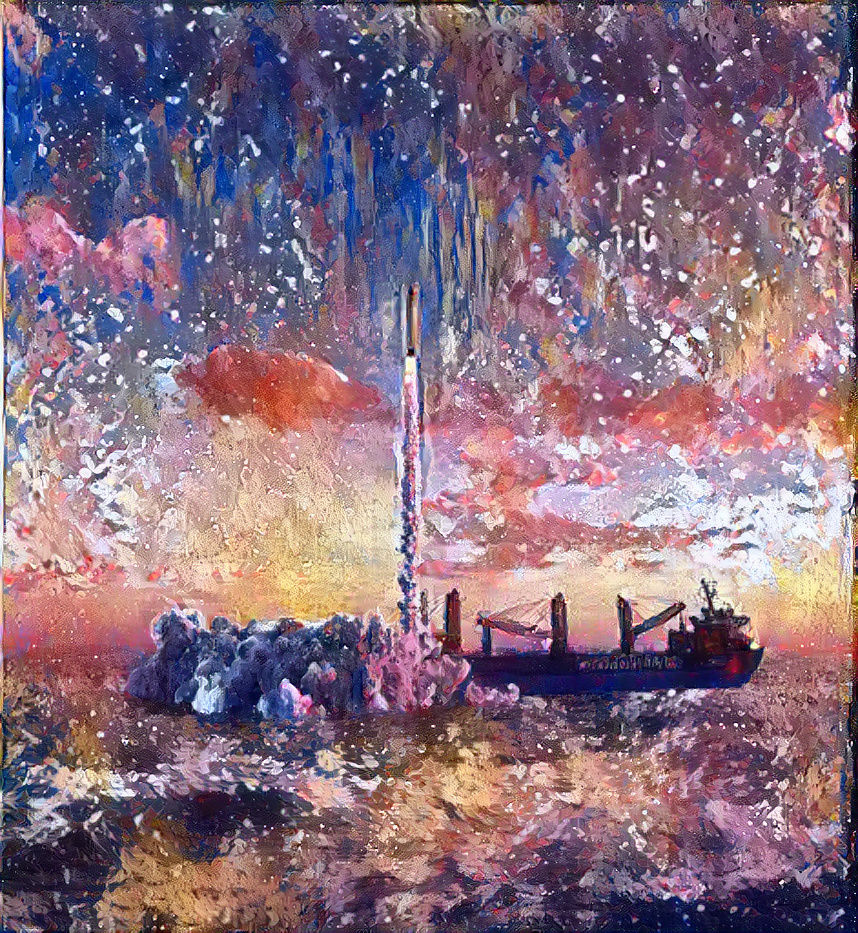 German Offshore Spaceport Alliance: Germany's rocket launch site in the North Sea
Germany spends over one billion Euro every year on space and related industries. Quality engineering, a highly advanced economy and a well-educated workforce: those are qualities attributed to Germany. One would think that "space" is where the largest European economy excels. That is, unfortunately, not the case. One of the reasons for Germany's secondary role in space: The lack of a dedicated launch site for its own rockets.
This is what the German Offshore Spaceport Alliance ("GOSA") is trying to change. With a mobile rocket launch site in the North Sea, Germany could gain independence, advance its national (new) space economy and provide a flexible launch site for European or international launchers.
There have been plenty of rumors over the years regarding a German rocket launch site. Most recently, Germany's initiative for a dedicated space law framework provided further fuel. We've taken a closer look and put the mobile spaceport into a reasonable and understandable framework, and provide tools to judge whether and how the North Sea launch platform can send rockets to orbit in the next years.
This is the rocket launch platform the Germans are developing
A historic look at Germany's rocket launch sites
To understand the history of spaceports or rocket launch sites in Germany, it makes sense to add historical context to the country's space industry. During the time of national socialism, Berlin and Peenemünde on the Baltic Sea were used as the primary testing sites for research and military rockets. Peenemünde was especially well known, as it was the training ground for legendary rocket engineers such as Wernher von Braun, father of the Saturn rockets. Cuxhaven on the North Sea was used in the 50s and 60s, and Zingst was used in East Germany during the 80s and 90s. None of those sites, however, were ever properly established for orbital launches.
The reasons are simple: Germany does not offer any non-inhabited sites with clear orbital paths, either for equatorial orbits or polar orbits. Neither does Germany have any former colonies with potential launch sites, like France with French Guiana. No commercial or scientific approaches to a spaceport have been made, such as Italy with the Luigi Broglio Space Center on the San Marco platform in Kenya, or Switzerland with their mobile launch site Sea Launch in the Pacific.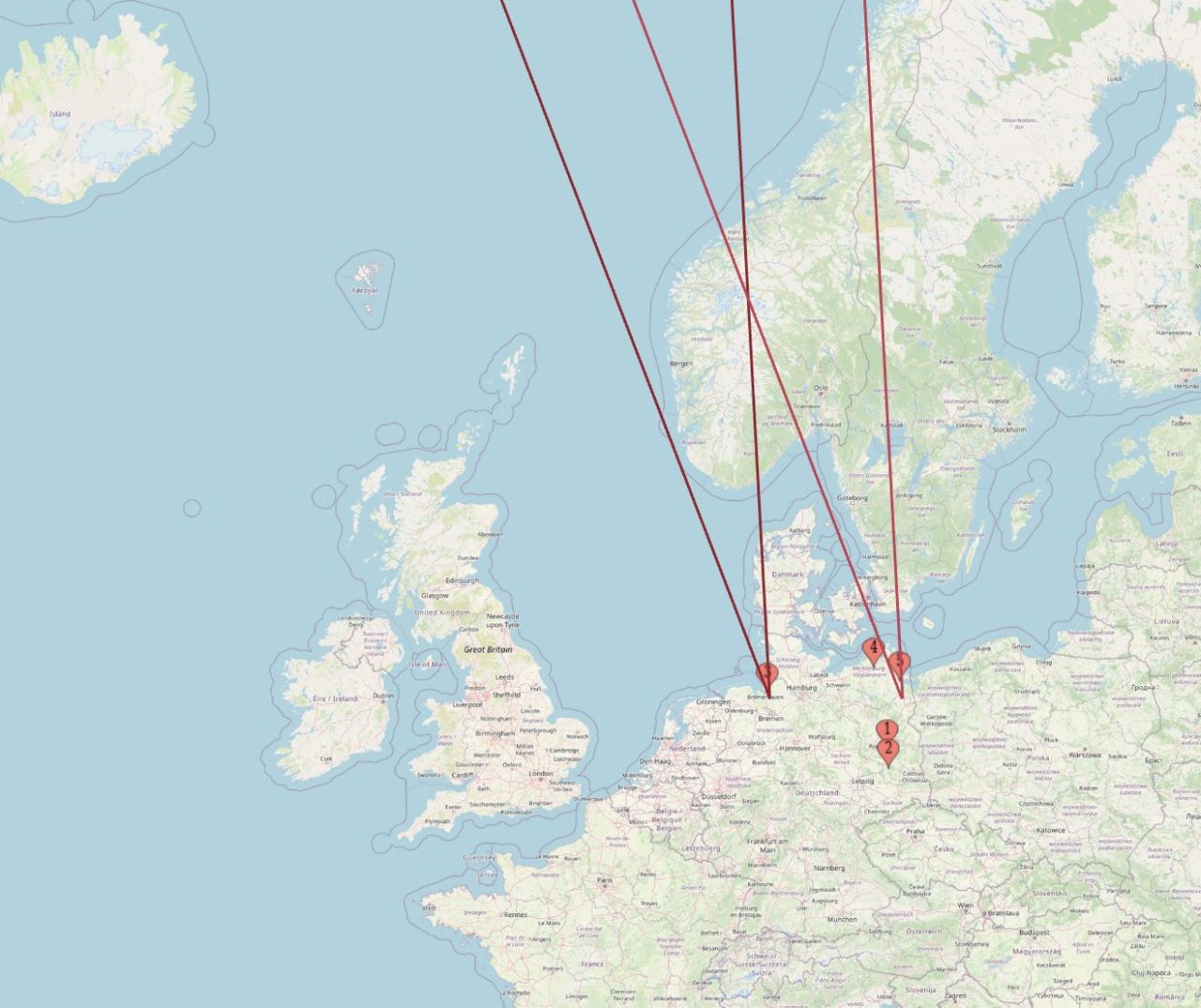 Germany's aspirations for a national spaceport
The first real approach to a new spaceport and launch site came in 2018 on the back of the commercialization of space over the previous decade. With launch startups sprouting up throughout Europe and initiatives like "Boost!" from ESA, Germany was beginning to consider a dual and market-oriented approach to space.
In 2018, the Federation of German Industries (Bundesverband der Deutschen Industrie, BDI) asked the federal government to check if and how a launch site could be realized. Out of this inquiry came a potential mobile vertical launch site solution in the exclusive economic zone (EEZ) in the North Sea, operated by a private company.
Backed by BDI's initial request and equipped with an in-depth strategy paper on the North Sea launch platform in August 2020, the project was formalized and put up for debate in the senate of the city state of Bremen, hometown of players such as OHB SE, but also one of the largest port and shipping cities in Germany. Armed with an in-depth concept and feasibility study that was to be the baseline of initial discussion with the government, the key message was: Realization of a private launch platform for Germany in the North Sea with financial backing by the government.
But who exactly was behind it, formally, and informally? Let us take a closer look at the history of GOSA, the consortium behind the initial proposal.
History of the German Offshore Spaceport Alliance GmbH (GOSA)
GOSA goes back to an initiative from OHB SE, one of Germany's largest corporates in the space and satellite industry. Originally founded as "OHB Digital Maritime Services GmbH", the company was rebranded to German Offshore Spaceport Alliance GmbH in December 2020. Initially, "OHB Digital Maritime Services" had the goal of realizing the "com4offshore" project, a working group of companies trying to establish what was then touted as "competent consortium to develop an integrated, multi-modal communications systems for interactive real-time applications for offshore wind energy". The players involved:
Deutsche Offshore Consult (DOC) GmbH, a consulting service for offshore projects in the North Sea, now bought out by Tractebel and called "Tractebel DOC GmbH",
megatel GmbH, which is now OHB Digital Services GmbH,
MediaMobil Communications GmbH, a satellite communications provider focussing on maritime systems,
OHB Teledata GmbH, another OHB venture and
the European Space Agency (ESA), who was the primary research driver of the project.
We go into detail here because, while we're unsure how far the com4offshore project ventured out after the project was finished, the key placers in today's German Offshore Spaceport Alliance GmbH remain the same.
Key players and people behind the North Sea launch platform
Behind GOSA are OHB, MediaMobil, and BEJU GmbH, which is held by Oliver Spalthoff who is the CEO and (former) owner of Deutsche Offshore Consult (DOC), now part of Tractebel. The project is further support by Harren & Partner who provide the ship to be used as mobile launch platform, Lampe & Schwartze as insurance partner and BLG Logistics, providing port infrastructure in Bremen.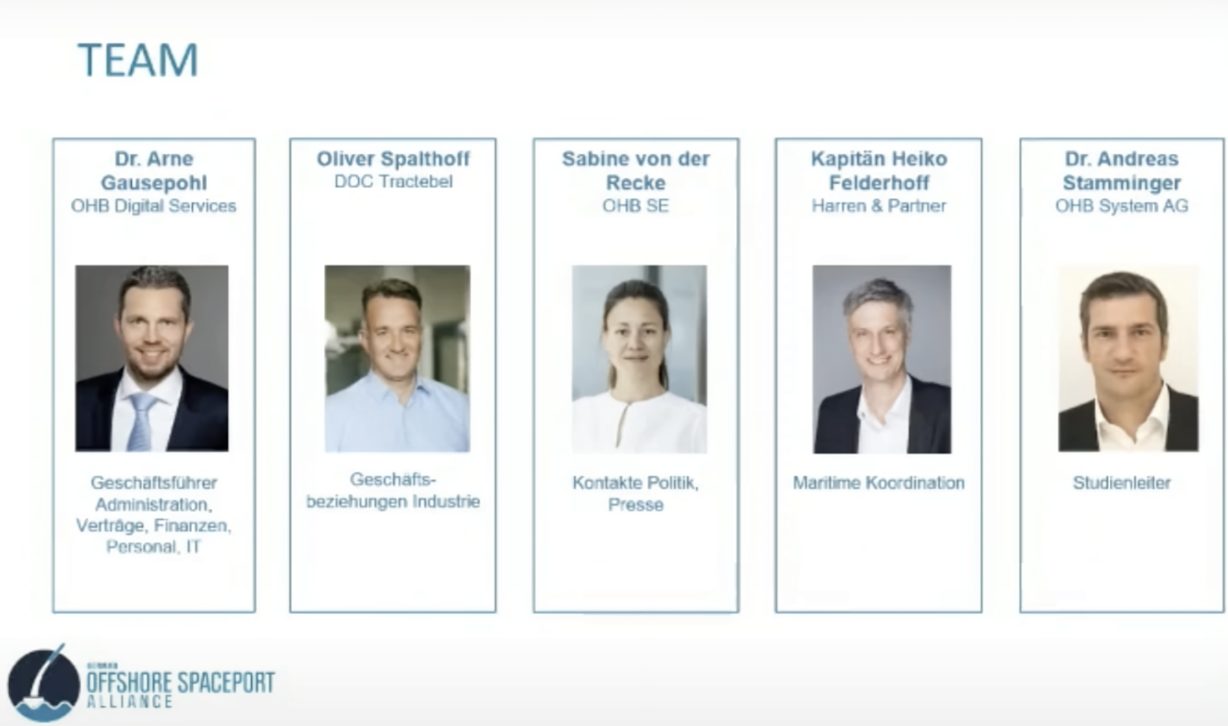 The key feasibility study was developed by Tractebel DOC, who, throughout 2020, developed the plans and interviewed German launch startups for feedback. The launch startups included HyImpulse Technologies, Isar Aerospace as well as Rocket Factory Augsburg (RFA). RFA is also OHB's rocket launch venture, almost exclusively funded by them, thus closing the loop on the reasons for the initial proposal of a mobile launch platform.
After officially founding GOSA in December 2020, the year 2021 was primarily used to push the project through political channels, resulting in a much publicized event with Germany's then Federal Minister for Economic Affairs and Energy, Peter Altmaier. At the event, GOSA, under the guidance of Altmaier, signed 4 Memorandum of Understanding (MoU) with launch partners that could use the mobile launch platform:
HyImpulse Technologies GmbH,
Rocket Factory Augsburg AG,
Skyrora Ltd. from the UK and
T-Minus from the Netherlands.
The timeline was ambitious, with realization of the platform planned for 2022 and first launches potentially in the year 2023. The date of the event with minister Altmaier: September 6th, 2021, 2 weeks before federal elections resulted in social democrats taking charge and relieving Altmaier, a conservative, of his duties.
Back to square one? Adapting in 2022, new signs of life in 2023
Having to deal with a new political framework and not the warmest welcome by the new red-green coalition, 2022 was used to adapt and refine the mobile spaceport's approach to the new climate. In February 2022, the war in Ukraine broke out and Germany subsequently pledged an increase of €100 billion in defense budget – something that could certainly benefit the national space industry.
Noise around the launch platform started to increase in the second half of 2022 and in the beginning of 2023, with the consortium attending new space and satellite conferences, and formalizing the approach to the mobile launch site. Presentations from the Small Satellite Conference in August 2022 and a number of publicity events from local radio to the national press kept the spaceport in people's minds. The main announcement in December 2022: "We're still here, and we're still targeting a launch in 2023." Quite confident. So what exactly does the mobile launch site look like?
Germany's Spaceport in the North Sea: How it could work
The mobile launch site would be located all the way at the end of Germany's Exclusive Economic Zone in what is known as the "Duck's Bill", roughly 400 km from the port in Bremerhaven. The north-westernmost spot in the EEZ offers relatively clear launch trajectories for SSO or polar orbits, while sea and air traffic is similar to launches from Sutherland Space Hub.
Instead of fixed installations such as SaxaVord, Andoya or ESRANGE, the German launch site would be a mobile platform, basically a large ship, that transports the rocket out to sea, erects it and then launches it horizontally.
| Info | North Sea Launch Platform |
| --- | --- |
| Rocket length | 30 meters |
| Rocket width | 2,5 meters |
| Lift-off mass | Up to 60 tons |
| Launches per year | 12 initially, up to 25 per year |
| Days for launch | 10 – 15 days (transportation, preparation etc.) |
Estimates used for the initial feasibility study, enough for a 1-ton payload rocket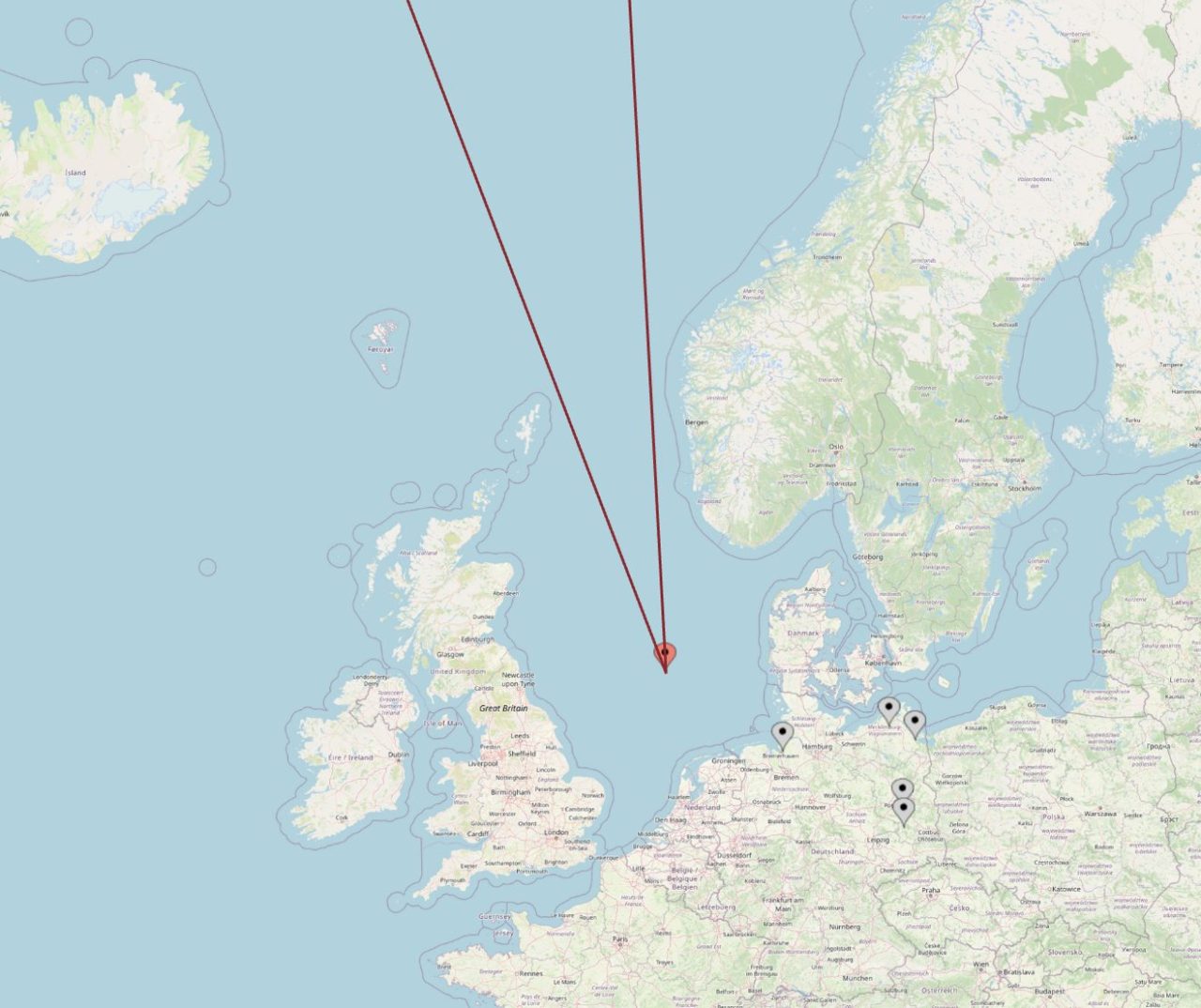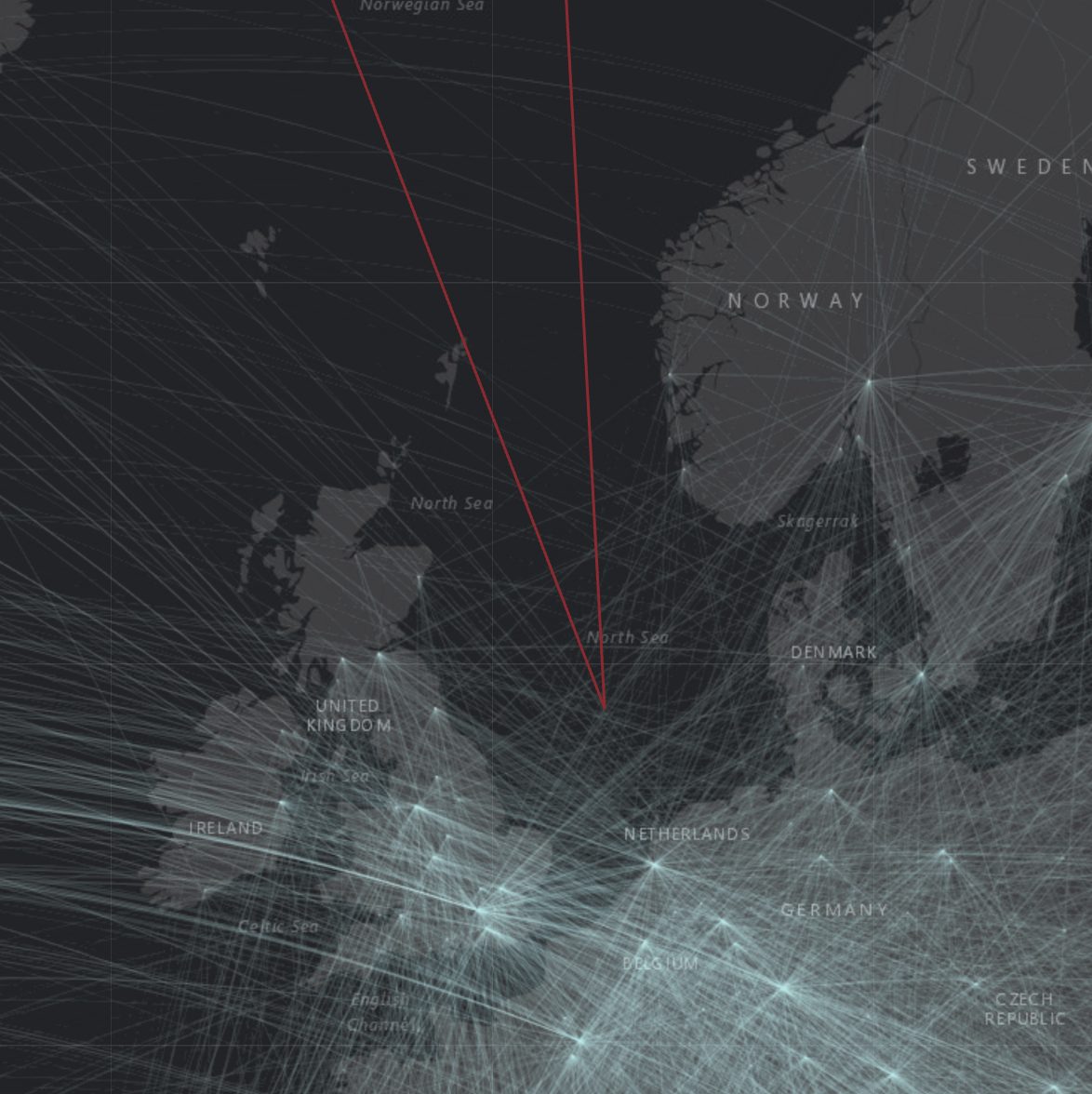 The feasibility study analyzed different types of ships to be used, coming to the conclusion that a "Combi Dock" vessel, a versatile dock vessel equipped with a stern ramp for rolling cargo on and off the vessel (RoRo – roll on roll of instead of LoLo – lift on lift off), would be the best solution. Harren & Partner, the shipping company supporting the project, would supply the "Combi Dock I" vessel for this purpose.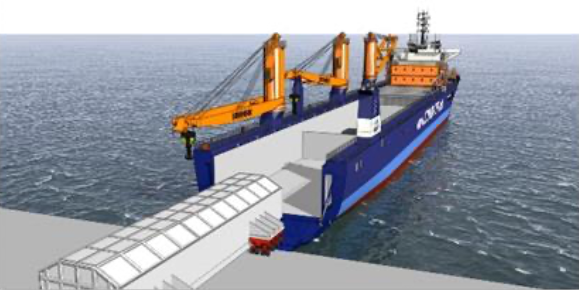 | Info | Combi Dock I |
| --- | --- |
| Type | Roll-On-Roll-Off, open stern-ramp |
| Lift | 3 heavy lift cranes for 700 tons lift capacity on the ship |
| Length | 170 meters |
| Breadth | 25 meters |
| Cardo width | 18 meters |
| Velocity | 16 knots |
Overview of the Combi Dock I, the launch vessel
The rocket would then be loaded onto the ship horizontally and the vessel would set off towards the launch site in the North Sea. There, it would need to be stabilized through dynamic positioning systems (DP2) to minimize pitching and rolling movements of the ship (fixed jack-up variations have been examined by GOSA as well). The rocket could then be erected vertically on the ship, while the stern ramp would be left open to let the rocket exhaust exit the vehicle unhindered.
Before propellant tanking begins, the crew would be evacuated to a secondary support vessel. Further marine control vessels would likely be required for initial launches, as well as a recovery vessel downstream of the launch trajectory. Once crew evacuation and subsequent propellant tanking are completed, the vertical launch could take place with a polar or SSO orbit.
Estimated operational timeframe and launch capabilities for Germany
Since this is not a fixed launch platform, each launch would take between 10 and 15 days of preparation, transition, launch and return to base. The best case scenarios analyzed for a "Combi Lift" vessels are roughly 6 days net. Considering weather circumstances, a total of 250 potential days of operation are possible throughout the year, resulting in up to 25, maybe even 30 launches per year per vessel.
| Operation | Best case estimates for "Combi Lift" vessel |
| --- | --- |
| Transit / transport to launch site | 1 day |
| Positioning | 0.25 days |
| Project operation / launch | 3 days |
| Positioning | 0.25 days |
| Transit / transport to base | 1 day |
| Weather restrictions for transit/operation | Max 4m waves Hs, <25m/s winds |
| Weather restrictions for positioning / launch | Max 2.5m waves Hs, <18m/s winds |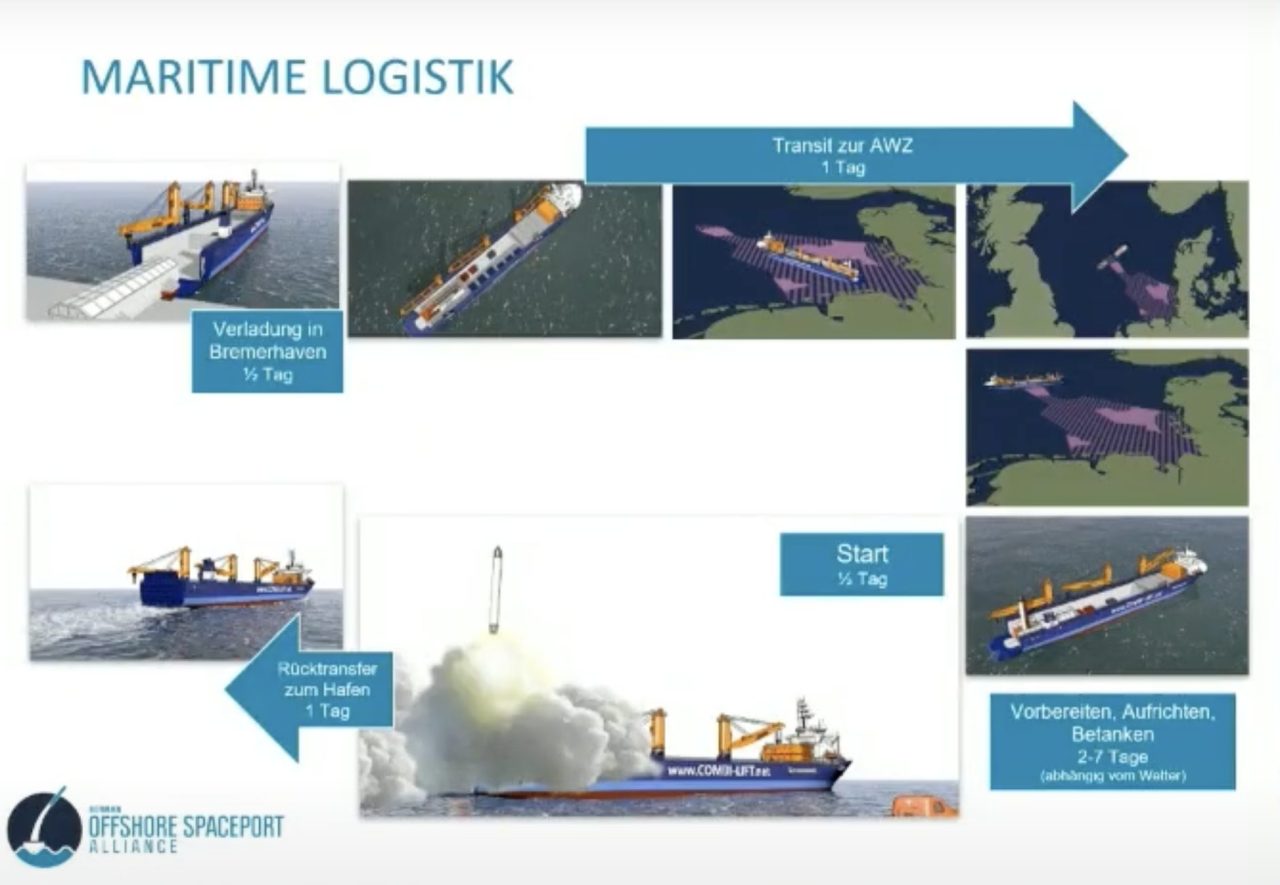 Business and financials: How much does a mobile launch platform cost?
Shareholders: Who's actually behind GOSA
While there are several partners and people involved in the process of establishing the launch site, the actual shares of the company are currently held by three investors.
The own shares of the GmbH ("Gesellschaft mit beschränkter Haftung" – limited liability company) generally do not have voting rights and can be ignored. With voting decisions requiring a 2/3 majority instead of 50.01% as is usual for limited liability companies in Germany, OHB has a veto right on every decision taken and is effectively in control of the project.
| Shareholder | Shares |
| --- | --- |
| German Offshore Spaceport Alliance GmbH (own shares) | 12,499 shares |
| OHB Digital Services GmbH | 12,503 shares |
| MediaMobil Communication GmbH | 12,499 shares |
| BEJU GmbH (held by Oliver Spalthoff) | 12,499 shares |
Financing: Roughly €22 million to €30 million needed to get to operations
Though the launch site is driven by a corporate, the stated goal was a private launch platform with financial backing from the government. We're basing our calculations and estimates on the public feasibility study conducted by DOC Offshore in August 2020.,
This initial proposal's estimated cost is roughly €30 to €35 million for the first seven years of the launch platform. All costs would be covered through public funds, which would bring the platform to an operational status after 4 years. The initially proposed investment overview as follows:

The initial proposal seeks an investment of roughly €35 million over the first 7 years of operations, of which €2 million are required for permits and initial engineering, plus a total of €12 million for the cost of mobilization and demobilization of the launch platform. There is an estimated €7.5 million in guarantees for the shipowner, which will not be charged in case the launch plans go according to plans, thus explaining the difference between €22 or €30 million in funding requirements.
A further €3 million will be used for the start of operations in the third year – now estimated to be around 2025 – and another €3.8 million in subsidies for new space startups launching from the platform.
In case the plans go through, the federal government would be under the budget by roughly €2.6 million per year after year 5, which could be used for up to 4 launches by and for the federal government per year.
Price per launch: What a launch from the North Sea spaceport would cost
DOC has done a preliminary launch cost analysis based on the concept of 250 potential operating days per year, with calculations for three phases:
Test phase with 12 launches per year
Start-up phase with 20 launches per year
Operational phase with 25 launches per year
The cost estimate is split into three projections: an early stage with 12 launches per year, a startup phase with 20 launches per year, as well as an operational phase with 25 launches per year. The estimates are driven primarily by the costs for chartering both the launch vessel and the support vessel, as well as mobilization / demobilization of the vessel.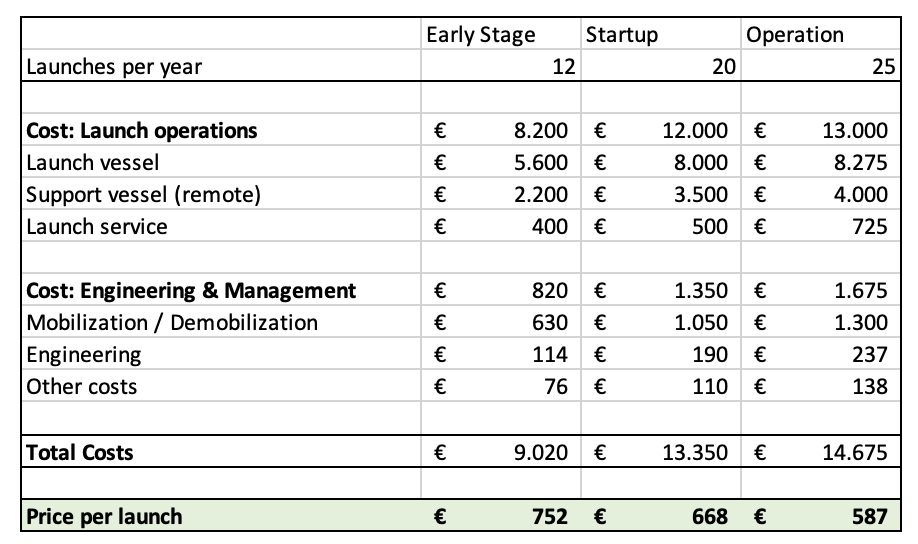 In the early stage scenario, a break-even analysis comes around to
EUR 750,000 price per launch in the early phase,
EUR 668,000 price per launch in the startup phase,
EUR 587,000 price per launch in the operational phase.
From a financial point of view, this makes the North Sea launch platform competitive. We know from the SCEPTRE report that launches in the UK are priced between EUR 600,000 to EUR 1,250,000 per launch, while our estimates of Andoya Space result in launch prices of up to EUR 1,500,000.
My opinion on Germany's Spaceport in the North Sea and GOSA
What I like about Germany's Spaceport in the North Sea and GOSA
Critical infrastructure: Europe and particularly Germany have been quite lackluster when it comes to innovation in space and defense. With Baikonur off-limits and Ukraine's communication infrastructure hanging in the private hands of Starlink, independent space launch capabilities are evidently becoming critical infrastructure for nation states. Maybe the key to get GOSA off the ground is to piggyback on the success of infrastructure projects such as the Baltic Sea LNG terminal or the Giga-Factory in Berlin.
OHB is getting serious: Granted, the monetary investment is supposed to come from the government, but OHB uses its new space funds primarily for RFA. RFA, however, desperately needs launch slots down the line in case they want to achieve their launch cadence (50+ per year!). This is a good call-option that fits into OHB's new space strategy.
What I don't like about the German Offshore Spaceport Alliance
Set your alarm for 2028: We estimate at least four mackerel and two seasnails could suffer emotional distress for every rocket launch. Jokes aside, there's a non-zero percent chance thoughts like this are enough fuel to keep the Germans debating for half a decade whether unrestricted access to space for the world's fourth-largest economy might make sense.
Politics: "Much remains to be clarified with regard to airspace, the North Sea, shipping and offshore wind farms. I'm happy when GOSA is making good progress." – A quote from Germany's federal representative for aerospace in February 2023. Feel free to translate the whole article and read 2 pages of vague statements regarding the current government's stance on the future of new space in Germany.
Things to watch out for
Further options: Apart from GOSA, the airport Rostock-Laage has also been proposed as a launch site, though as a horizontal one, similar to the spaceport in Cornwall, UK.
Necessity: A private entity using public funds. It looks like the initial launch will be driven not by economics, but by politics and necessity. We covered the politics, so looking at necessity, I don't see how there is a lack of launch spots up until 2026, maybe 2027. As of right now, SaxaVord and Andoya plan to offer at least 40 to 60 potential launch spots per year, of which maybe 10 might be used in 2024, and we're not even including the up and ready ESRANGE spaceport in Sweden.
Want to know more about German Offshore Spaceport Alliance? Here are some tips:
Structured company information on German Offshore Spaceport Alliance GmbH
Type
Information
Official Company Name
German Offshore Spaceport Alliance GmbH
Founded in
August 2017, rebranded and restructured December 2020
Management
Arne Gausepohl, Heiko Felderhoff
Investors
– OHB Digital Services GmbH
– MediaMobil Communication GmbH
– BEJU GmbH
Locations
Headquarter
Lise-Meitner-Straße 2, 28359 Bremen
Launch Site
Northwestern-most spot in Germany's EEZ in the North Sea
Contact

Email
info@offshore-spaceport.de
Website
https://www.offshore-spaceport.de
Instagram
Not available
Twitter
Not available
LinkedIn
GOSA LinkedIn
YouTube
Not available
Interested in more new space? Read our other reviews and analysis