Welcome to our in-depth analysis of Latitude, most recently updated February 14th 2023. Make sure to check out our mission statement and why we do what we do. Look at our New Space guide if you want explanations of terms and concepts used in our research. And follow us on Twitter for updates.
What you should know about Latitude
📰 For space enthusiasts
Development and production of Zephyr rocket with 100 kg LEO, 70 kg SSO payload capacity
Navier engine with 12-13 kN of thrust, LOX/RP1 based
Two-stage rocket with 9x Navier engines on first, 1x Navier vac-engine on second stage
First launch planned Q4/2024 from SaxaVord Spaceport
Rocket pricing at $3 million per launch, about $35.000 per kg of payload
💰 For VCs and industry experts
France's most advanced new space company
Over EUR 10 million in funding, closed Series A round in mid-2022
Investors include VCs, corporates and credit institutions, all from France
Series B expected on the order of >EUR 25 million, total funding requirement of at least EUR 70 million to operations
👨‍💻 For potential employees
One of the fastest growing rocket companies in France
70+ employees based in factory hub in Reims, France
Seeking hardware and software engineers, material, propulsion and structural designers as well as business operations
Average salary, engineers can expect around EUR 36,000 to EUR 55,000 depending on experience. Company still externally funded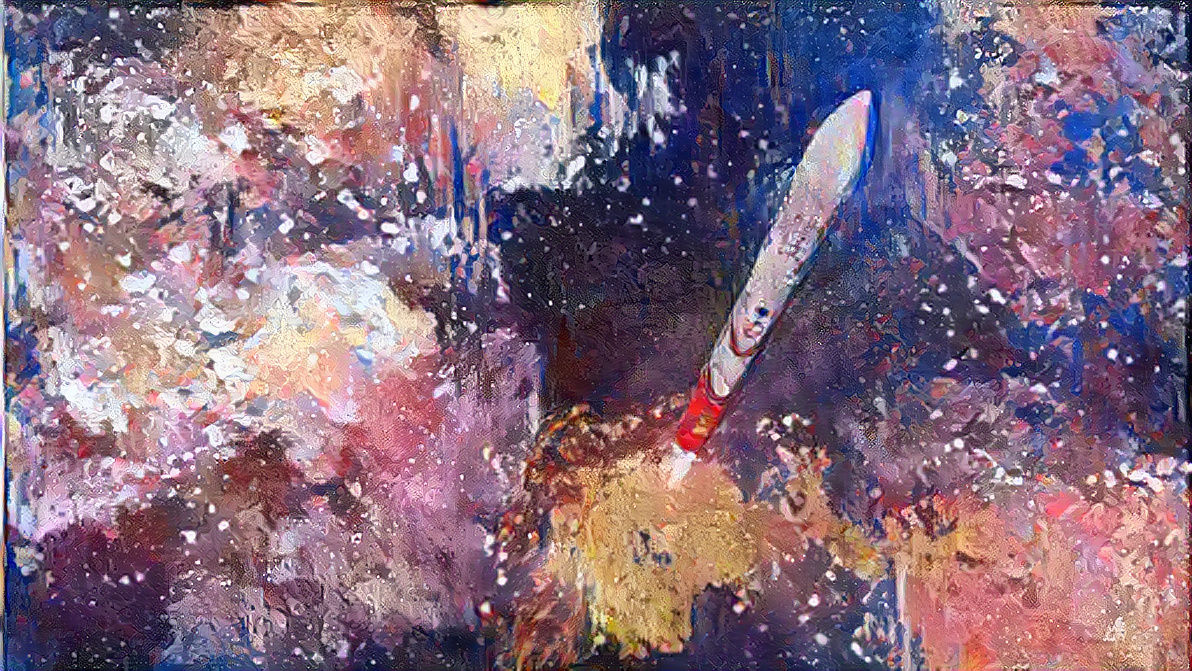 Latitude: The French new space company developing the Zephyr rocket
Latitude is a French new space company that was founded in 2019. Formerly known as Venture Orbital Systems (and initially founded as Prometheus Space Industries SAS), Latitude develops the Zephyr micro-launcher rocket capable of sending up to 100 kg of payload to LEO.
Latitude with their Zephyr is so far one of the few French new space company seriously developing an orbital launch vehicle. Their plan is to beat competitors on fast launch times of just 6 months from contract signing to launch, while offering dedicated orbits from their launch site, which will be SaxaVord Spaceport in Scotland. So far, with over 70 employees and a €10 million Series A, Latitude is estimating an initial launch at the end of 2024 to early 2025.
Latitude 2019 – 2021: Certainly one of the youngest newspace companies in Europe
Latitude was founded in 2019, originally by Stanislas Maximin as CEO, Ilan Saidi-Bekerman as COO and Coste Corentin as CTO. Coste Corentin left the company in early 2020 and the technical roles were taken over by the CTO, Kevin Monvoisin, who is now considered founder and CTO of Latitude. Latitude is definitely one of the youngest companies in European Newspace, and the management are also some of the youngest in the industry as well: both Maximin and Saidi-Bekerman were born in 1999, making them a mere 20 years old when they founded Latitude.
Several of Latitude's technical core members were involved with the AURORA Liquid Engine project, a collaboration between students from ESTACA, ArianeGroup, AirLiquide and AddUp, with a focus on 3d-printing liquid rocket engines. They officially joined Latitude in 2020 and 2021, developing the 3D-printed Navier engine.
The engine development showed enough technical knowledge to obtain contracts from both CNES (French Space Agency) and ESA (European Space Agency) in 2020. The key development was the effective doubling of their payload capacity by August 2020 from 40k to LEO to 80 kg to LEO. The new payload capacity massively improved their business case which convinced investors, including UI Investissement, to subscribe to their EUR 750,000 Seed round in December 2020.
The seed round propelled Latitude forward by quite a bit: They hired key personnel, especially on the technical side, and doubled their team size to over 20 employees by mid-2021. In October 2021, Maximin signed the contracts for their new 1,200 square meter factory in Reims. The relocation to Reims was not just a relocation, but it also came with EUR 100,000 in grants from the Région Grand Est region's came due to several factors.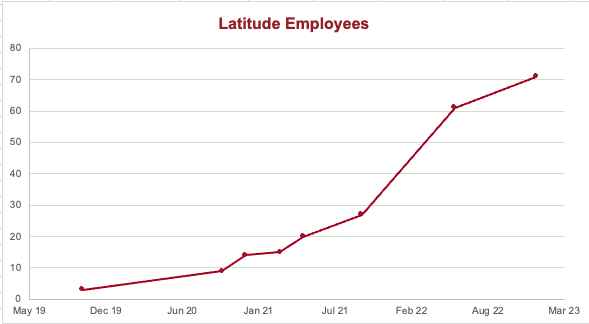 2022 – today: Latitude's Series A, tripling team size and successful engine tests
The company's most significant events to date all happened in 2022. In March of the year, Latitude signed a Memorandum of Understanding with SaxaVord spaceport, picking the Scottish spaceport as their "home location" for maiden flights and launches starting in 2025. In June 2022, Latitude closed its Series A round of around EUR 10 million in funding, which included French banks, a venture capital firm as well as several corporates. The funding was also marked by a rebranding to "Latitude" from "Venture Orbital Systems", not only broadening the potential scope of the company, but also choosing a French name – for obvious reasons.
The larger funding gave Latitude enough liquidity and runway to hire over 40 people, expanding the team to 70 by the year-end. In 2021 and 2022, Latitude also made moves in their management team, hiring experiened seniors such as Olivier Lebrethon as CTO – moving Monvoisin to the role of COO – Adeline Pitrois as Head of Sales (both coming from ArianeGroup) and Vincent Baudoin as VP of Strategy. This greatly increased the years of experience in Latitude's top rank. On the technological side of things, the year was successfully closed with their prototype Navier engine test, which ran for over 30 seconds at SaxaVord spaceport. Let's look at the rocket in more detail.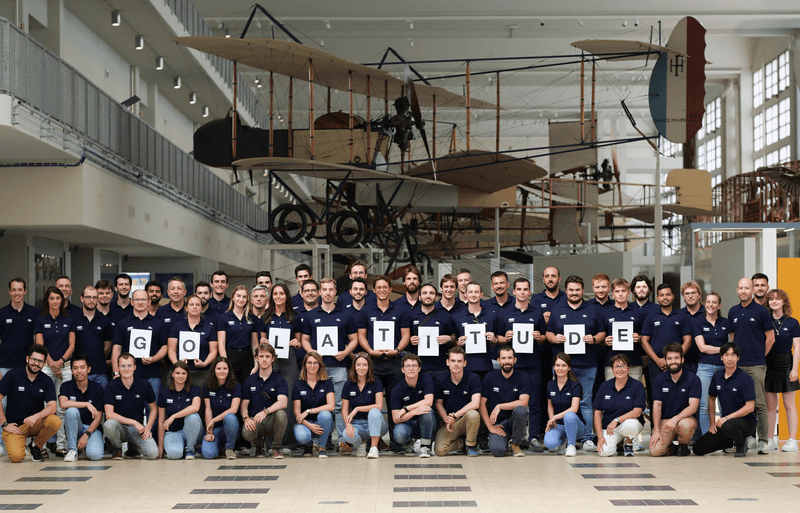 Zephyr microlauncher rocket: 100 kg payload to LEO
The Zephyr rocket was Latitude's primary rocket development right from the beginning. The Zephyr rocket is a two-stage microlauncher rocket powered by sea-level and vacuum versions of the in-house, 3d printed Navier engine (probably named after Claude-Louis Navier, who discovered key equations for what is now known as computational fluid dynamics).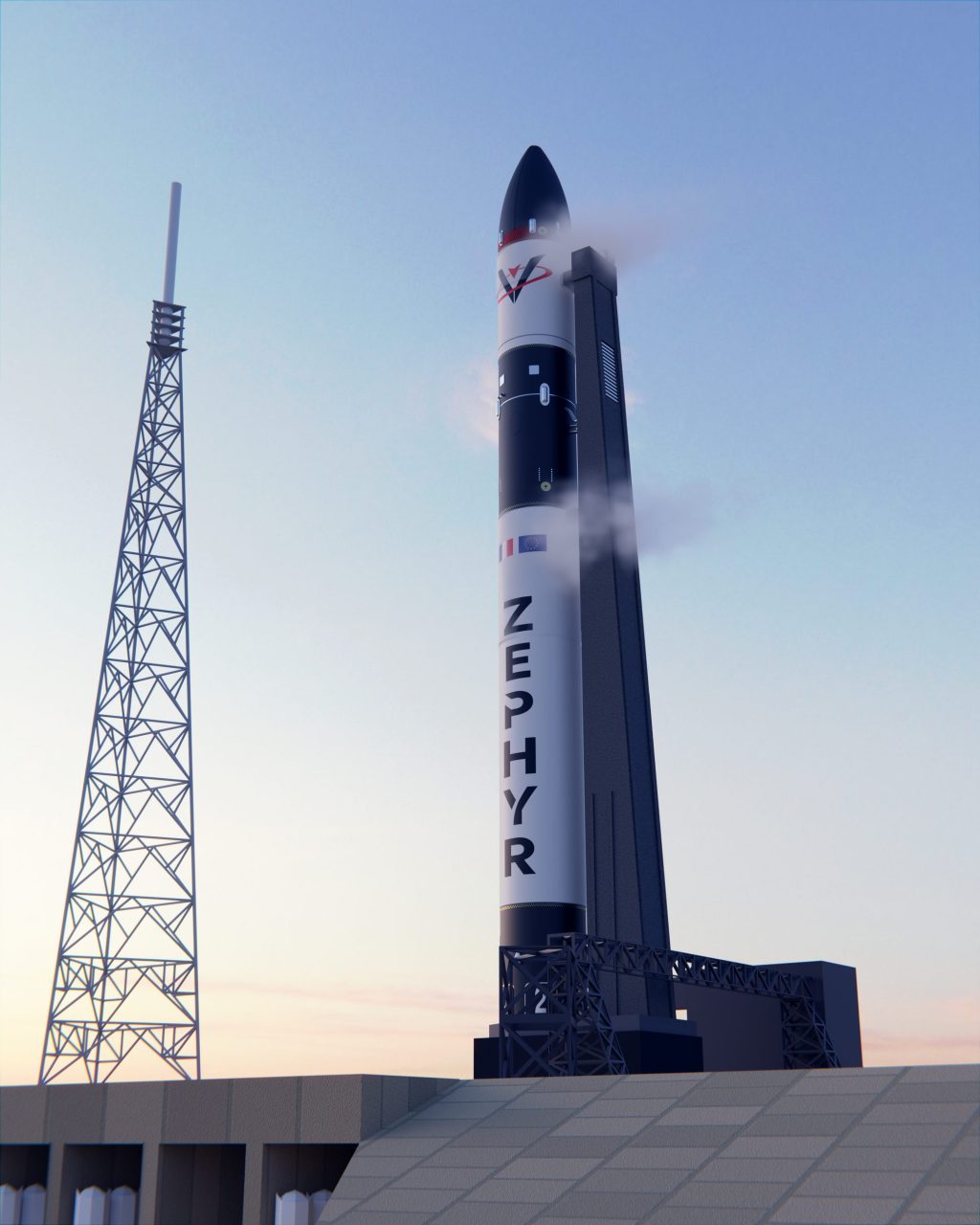 In its initial configuration up until August 2020, Zephyr was 11 meters tall and only capable of 35 and 40 kg to SSO and LEO respectively, but new developments and engine configurations expanded the potential payloads. One of the larger changes was going from a 6+1 configuration to a 9+1 engine configuration (9 Navier engines on the first stage, 1 vacuum-optimized Navier engine on the second stage). The new configuration – from 2021 to beginning of 2022 – was 15 meters in height and 1.2 meters wide. It supported payloads of 70 kg SSO and 80 kg to LEO.
The current configuration is the two-stage Zephyr rocket, 17 meters in height, 1.2 meters wide, with 9x sea-level Navier engines at 12 to 13kN of thrust on the first stage, and one Navier vac-optimized engine on the second stage, bringing a potential payload of 100 kg to LEO and 70 kg to SSO. Both the sea-level and vacuum variant are powered by LOX/RP1 (liquid oxygen and Rocket Propellant 1, aka Kerosene). Current projections could move payload as high as 150kg to some LEO orbits
In December 2022, Latitude has successfully tested a prototype of the Navier engine at SaxaVord spaceport, running the engine for roughly 30 seconds. Further testing rounds are now planned for April and June 2023, which would allow for the development of a flight-configuration Navier engine. The Zephyr rocket is then planned to take off from SaxaVord in late 2024, though the possibility of a launch in 2025 is much greater, considering New Space rocket development timelines. Latitude has also been chosen by CNES as a candidate for launches from Kourou, though they are too early in the development phase to be specific when they will launch from French Guiana.
Info
Zephyr Rocket
Height
17 m
Diameter
1.2 m
Gross Lift-off Weight
15 t
Payload Capacity
100 kg (LEO)
70 kg (SSO)
Number of Stages
2
Engines
Navier, 9 + 1
Oxidizer / Fuel
LOX / RP1
Thrust
~22 kN
Zephyr rocket specifications as of January 2023
Watch the Navier engine prototype come to life
Boreal: Zephyr's (cancelled) little suborbital brother
For a while between 2020 and probably up until the closing of the Series A in 2022, Latitude was planning to develop the Boreal vehicle. The Boreal was supposed to be Latitude's suborbital test vehicle, probably used as an internal development tool with a pure research function. The Boreal would only support a suborbital flight path, and with 6.6 meters height and 0.5 meters width, powered by just 1 engine, it certainly would have been the "little brother" of the little Zephyr. As of 2023, it looks like for reasons of development speed and cost, the Boreal has been scrapped.

"Zephyr Heavy": Latitudes future development path
Though so far no public announcement has been made by Latitude with regard to their future vehicle prospects, there have been rumors of a Zephyr with double side-boosters for increased payload capacity to SSO / LEO. We assume that the expanded (and expendable) "Zephyr Heavy" could be a development option for 2025 and beyond, once their main vehicle, the smaller Zephyr, is operational. The heavier version could support payloads of over 300 kg or maybe even a ton, opening up a broader share of the satellite market and coming more into competition with providers such as Orbex.
Business and Financials: Latitude's funding rounds so far
Seed round, grants and debt convertibles in 2020
Latitude has received several rounds of funding starting in 2020, when the company received several smaller grants from the ESA Business Incubation Centre (EUR 25,000), from CNES (EUR 50,000), both in 2020, and then their Seed funding round of EUR 750,000 in December 2020, primarily by UI Investissement and BPI Investments.
Though announced as a one-time funding, we believe that the company's seed round was actually several smaller funding rounds throughout 2020 and 2021 using "BSA AIR", a startup friendly debt convertible that is unique to France. Investors remain on the debtor side with future equity discount-options, while the startup has quick and variable access to cash and no shareholder registry updates are needed. According to our calculations and ignoring smaller rounds sub EUR 100,000, Latitude has received:
EUR 250,000 in September and October 2020 and another EUR 400,000 in July 2021.
They have further received EUR 100,000 in grants from the Grand Est region's startup initiative in May 2021, which manifested their decision to settle in Reims, as well as
issuing another EUR 250,000 in debt-convertibles to BPI France.
We point out these details because, similar to PLD Space in Spain, there is an interesting dichotomy where in both Spain and France, banks are readily offering debt, grants and convertibles, while German or UK startups generally lack these funding options from credit institutions. Nevertheless, (launch) startups are more common in the UK than in Germany.
€10 million Series A valuing Latitude at roughly €25 million
In June 2022, Latitude closed its biggest funding round to date, their Series A over EUR 10 million. The company issued roughly 1,600 new shares against 2,000, giving Latitude a post-money valuation of roughly EUR 25 million.
We believe all debt convertibles were called from their previous investors, particularly UI Investissement and BPI France, who are now also equity investors. Further investors include Credit Mutuel Innovation (private equity arm of Crédit Mutuel, the largest French credit union), Expansion Ventures, a French space-focussed VC, plus COMAT Space, Nicomatic and GROUPE ADF, all French engineering companies.
In terms of dilution, the founders still hold roughly 1,500 of the 3,600 shares, with another 500 being held by key employees and the rest in the hands of investors.
Latitude's Series B and funding required to get to operations
In terms of funding required, Latitude has stated their funding requirements are as high as EUR 70 to EUR 80 million until 2024/2025 to get to operations, and as high as EUR 150 to EUR 200 million until 2027 for industrialized production.
For their Series B, at currently over 70 employees, aiming to go to 140 employees at the end 2023, we assume that the company is currently burning between EUR 300,000 to EUR 500,000 per month as baseline. They probably expend another EUR 150,000 to EUR 300,000 for manufacturing operations, bringing our burn rate calculation to EUR 450,000 – EUR 800,000 per month. With EUR 10 million in cash in June 2022, heavy technology investment requirements and considering funding rounds always take longer, Latitude will probably look to close their Series B during the first half of 2023.
This would make sense, considering they just had a successful engine test, and funding rounds will take a long time in the current economic climate, especially with a lot of heavy (and not necessarily flexible) French corporates in their shareholder registry. For reference, Maximin was targeting €3.5 million in September 2021, which was updated to €5 million in December 2021, and finally turned out to be a Series A of 10 million in June 2022
We assume Latitude is targeting EUR 30 – 40 million at a valuation of EUR 100 million, with 25% variation on funding/valuation considering the current investment climate. This should probably play out until Q3 2023.
Business and pricing model of the Zephyr rocket
Latitude has been quite open about its pricing model. The price to be charged per kg of payload to LEO is $35,000 and therefore comparable to providers in the microlauncher segment of companies offering payloads up to 200 kg. Another indicator has been Maximins "no more than $2.5 million per flight", which, with a vehicle of maximum 100 kg LEO or 70 kg SSO comes down to $25.000 per kg to LEO or $35.000 to SSO. It remains to be seen how and whether Latitude will include or exclude potential third party costs, such as launch prices charged by spaceport providers at SaxaVord, which should run at least in the mid 6-figures per launch. With dedicated rides, all-in prices will probably reach $3 million or more per flight.
In terms of launch cadence and timeline, Zephyr so far is still on schedule – surprisingly. The initial launch is planned for 2024, though it would not be surprising to see the launch pushed back to 2025 or 2026. A lot of the technology Latitude uses comes from third parties, with many references pointing to corporates and startups alike, from Halcyon to (formerly) Orbital Machines and others. Supply chain realities and the complexities of merging technologies will probably set in at some point this year.
Payload price comparison for European new space companies
| Company | LEO Payload (kg) | $ per kg (planned) |
| --- | --- | --- |
| Latitude | 100 | $25,000 – $35,000 |
| Isar Aerospace | 1,000 | $10,000 – $15,000 |
| Rocket Factory Augsburg | 1,300 | $3,000 – $10,000 |
| HyImpulse Technologies | 300 | $15,000 – $20,000 |
| PLD Space | 450 | $40,000 |
| Orbex | 180 | $40,000 – $80,000 |
| Skyrora | 315 | $42,000 |
Payload price comparison with Latitude at the top
Longer term plans are stated as 20 launches per year in 2026, scaling up until 40 or even 50 launches per year by 2030. As of right now, Latitude still has plenty of hurdles to overcome before it makes sense for us to model a business case.
Where Latitude sees its competitive advantage: Speed & service
With a microlauncher, looking at the potential payload is usually not what's most relevant. What is relevant, however, is the service component and speed factor that payload customers expect. The competitive edge that Zephyr tries to offer is, similar to Orbex in the microlauncher class, a very fast time to launch and thus overall cost savings for the payload customer. Maximin calls it the "Amazon Prime for Space" – interesting proposal considering we already have RFA's "Uber for a price of a bus ticket"-statement.
Latitude wants to offer a 6-month launch service from contract signing to a dedicated orbit. With the founders having no background in the space industry, Maximin set up Astreos, a 100% subsidiary of Latitude, which is now basically their research and marketing arm to scout the nano-satellite market over the next years. Through Astreos, Latitude hopes to provide a full service for payload customers: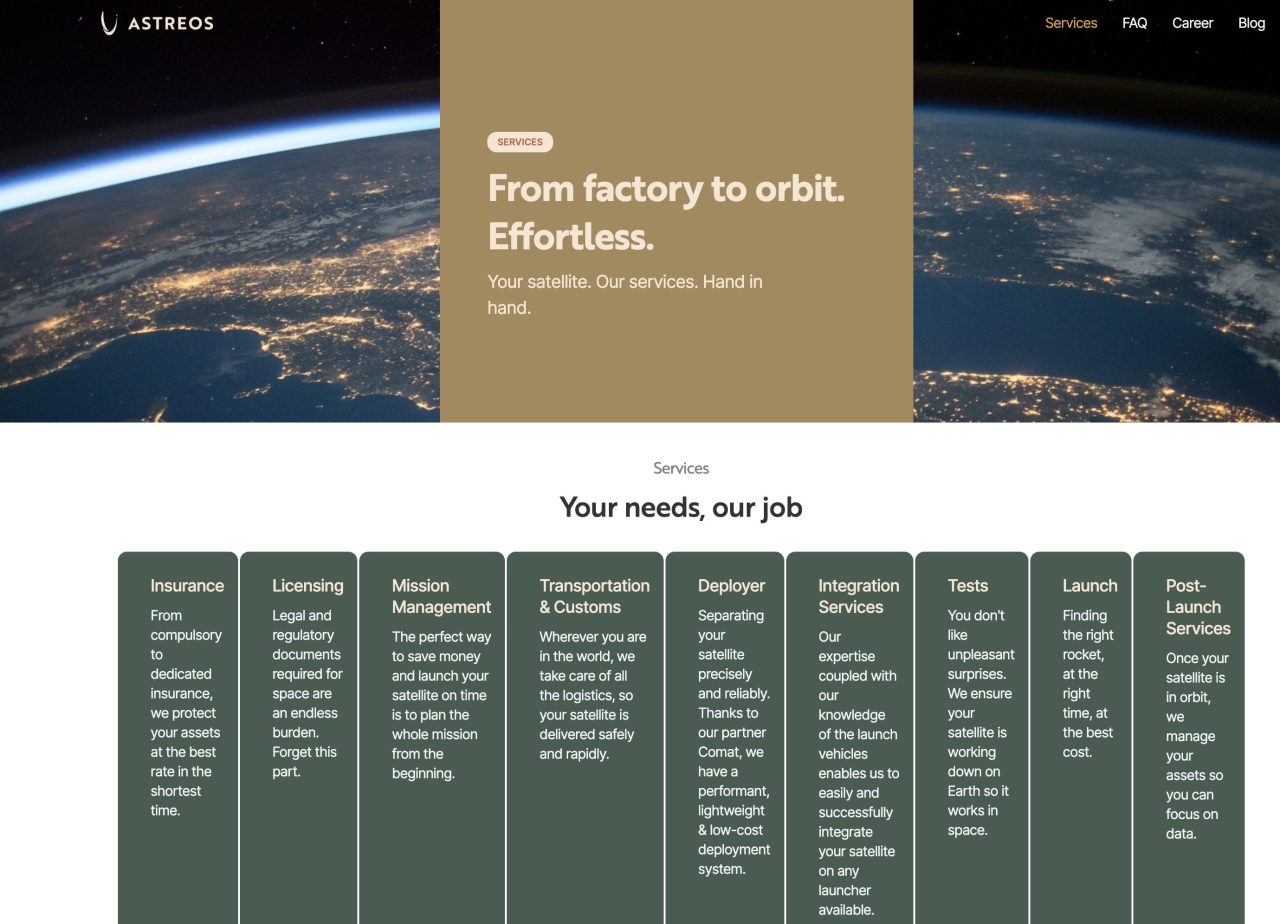 Working at Latitude: Salary, jobs and career perspective
Latitude is based in Reims, in north-east France, about 45 minutes by train from Paris. As a New Space company, Latitude is primarily looking for engineers of all kind: electrical and software engineer, launch operators, propulsion specialists. Though a French company, all technical positions do not require knowledge of French and are open to foreigners. Most jobs also have a home-office component and work from home is at least partially supported.
For remuneration at Latitude, salary is generally average for the New Space industry. As an externally funded company and with only limited liquidity operating out of Reims, engineers can expect between on average between EUR 36,000 to EUR 55,000, with business positions generally a bit lower than this. Exceptional candidates with experience can probably go above EUR 50,000 for dedicated positions. Jobs in business operations are probably somewhere between EUR 36,000 to EUR 50,000 at most, unless highly senior. It is important to note that salary at Latitude is heavily dependent on the funding rounds and there are increases depending on the liquidity situation at the company, as well as potential increases if they successfully close their Series B.
In terms of benefits, Latitude provides quite a few, including 7 weeks of paid vacation. Besides smaller benefits, early and key employees hold shares in the company, and Latitude offers an ESOP program (Employee Stock Ownership Program). As of writing, roughly 15% of all shares are in the hands of employees of the company.
My opinion on Latitude and why you should keep an eye on them
What I like about Latitude
Party like it's 1999: I feel obligated to start with this. Both founders, Maximin and Saidi-Bekerman were born in 1999. Many of the "firsts" in commercial space are taken by SpaceX, but getting to orbit for founders under 30 is certainly still on the table for the founders, and they have about 6 years left.
What I don't like about Latitude
One startup to rule them all: All the funding and support comes from French commercial and governmental institutions. The more traditional the funding source, the more likely it is that those investors can or will not invest in other newspace companies. In the grand scheme of things, if Latitude picks up most of the relevant French investors, I doubt we'll see any other sort of innovation coming from France newspace in the future, simply for lack of funding options (and no, ArianeGroup's MaiaSpace is not really new space).
Things to watch out for
Speaking of investors: I hope that the reliance on French corporates and credit unions as funding vehicles doesn't come back to haunt them when time and liquidity become a pressing issue. The higher the reliance on those institutions, the less likely the chances of 1) rapid advancement, of 2) outside or non-French investors, particularly for a potential Series C, and of 3) actually making a dent into the Franco/European space industry.
More information on Latitude (ex-Venture Orbital Systems)
| Type | Information |
| --- | --- |
| Official Company Name | Latitude (previously: Venture Orbital Systems) |
| Founded in | March 2019 |
| Management | Stanislas Maximin, Ilan Saidi-Bekerman, Kevin Monvoisin |
| Founding Members | Stanislas Maximin, Ilan Saidi-Bekerman, Kevin Monvoisin |
| Locations | |
| Headquarter | 53 Rue du Docteur Albert Schweitzer, 51100 Reims, France |
| Subsidiary | Astreos Launch, 53 Rue du Docteur Albert Schweitzer, 51100 Reims, France |
| Launch Site | SaxaVord Spaceport |
| Contact | |
| Website | www.latitude.eu |
| Twitter | Latitude Twitter |
| LinkedIn | Latitude LinkedIn |
Interested in new space? Read more in-depth reviews and analysis