Welcome to our in-depth analysis of Skyrora. Make sure to check out our mission statement and why we do what we do. Look at our New Space guide if you want explanations of terms and concepts used in our research. And follow us on Twitter for updates.
What you should know about Skyrora
📰 For space enthusiasts

In-house development and production of Skyrora XL rocket with 315 kg LEO
XL is a three-stage HTP/Kerosene rocket, 22,7 m height, lift-off mass 56 tons. 1st stage 9 engines at 70 kN thrust, 2nd stage 85,5 kN vac-thrust. 3rd "orbital stage" with 3,5 kN of thrust
Iterative approach with multiple dev- and production rockets
First launch planned 2023/2024 from SaxaVord Spaceport
Developing mobile launch complex for worldwide launches
💰 For VCs and industry experts

Funded privately by CEO Levykin, investor Max Polyakov (former Firefly Aerospace) and business ventures inside the Skyrora Ventures group, Skyrora's main (+75%) shareholder
GBP 35 mio in capital on group structure, GBP 9 mio for Skyrora UK and ~ GBP 1,4 mio Skyrora Ukraine
Pricetag of GBP 30,000 per kg payload to LEO, max yearly payload capacity of 5,000 kg with launch cadence of 16 by 2030 (planned)
👨‍💻 For potential employees
160+ employees with Skyrora UK and UA, +200 employees on Skyrora group level
Engine manufacturing, propellant development, launch operations in-house, broad spectrum of knowledge required
Seeking engineers and operations technicians, launch operators
Roughly average salary, engineers expeted GBP 35,000 – GBP 40,000, technicians GBP 29,000 – 32,000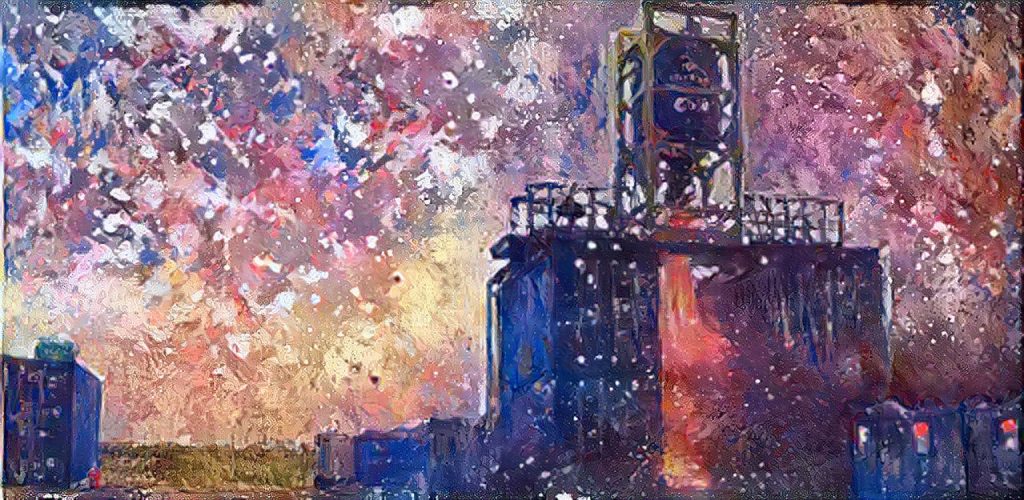 Skyrora: A closer look at Scotland's promising NewSpace company
Skyrora is a NewSpace company based in Edinburgh, Scotland that develops, manufactures, and operates integrated rocket launch systems under the Skyrora brand. Their principal launch vehicle, the Skyrora XL, is a three-stage liquid propulsion rocket that uses hydrogen peroxide and kerosene as propellants.
Skyrora was founded in 2018 and has used an iterative development approach, going from launching weather balloons in 2019 to a launch of the Skyrora Nano (6 km altitude), followed by Skyrora Micro (26,6 km altitude) and the prospective rockets Skyrora L (suborbital, 150 km altitude, planned 2023) and Skyrora XL (orbital, 300 – 500 km altitude, planned 2023-2024).
In terms of rocket development and technical knowledge, Skyrora's CEO, Volodymyr Levykin, makes use of his extensive network and has main operations and productions in Edinburgh and Glasgow, Scotland (around 80 members) plus another massive R&D operations in Ukraine and Slovakia, where the rockets are developed (around 150 members). It will use SaxaVord Spaceport as its primary launch facility, while also developing a "mobile launch platform" for launches whereever possible on Earth.
Who is behind Skyrora? Company history and founders
Skyrora was officially founded as "Space Alba Ltd." in June 2017 by Laura Edison, who is general counsel and director to this day. The company was soon renamed to Skyrora Limited and in January 2018, the main shareholding company of Skyrora, Skyrora Ventures Limited, was set up by Daniel Handry Smith, a British national and consultant. The man behind both Skyrora Ventures Ltd. and also Skyrora Ltd. is Volodymyr Levykin, a British-Ukrainian national and businessman with extensive history in running online businesses.
Skyrora: R&D in Ukraine's "Rocket City", production, assembly and launch in the UK
Through its network, Levykin established several research and development offices for Skyrora, with its main R&D facility in the city of Dnipro in Ukraine. Headed by Pavlo Botsula, who has spent 20 years at the Ukranian national aerospace company Yuzhmash, the Ukranian office is the primary R&D facility. A secondary office in Bratislava, Slovakia for propellant and structure testing as well as a satellite office in Germany, Skyrora GmbH, for Skyrora's 3D printing make up the main Skyrora entities outside the UK. In Scotland, Skyrora maintains its primary production facility, called the Skyrora Vehicle Assembly Building, located in North Lanarkshire (suburban Glasgow). The building itself contains a total of 55,000 square feet of factory floor and office space, with an adjoining 67,000 square foot yard, used for launch rehearsals.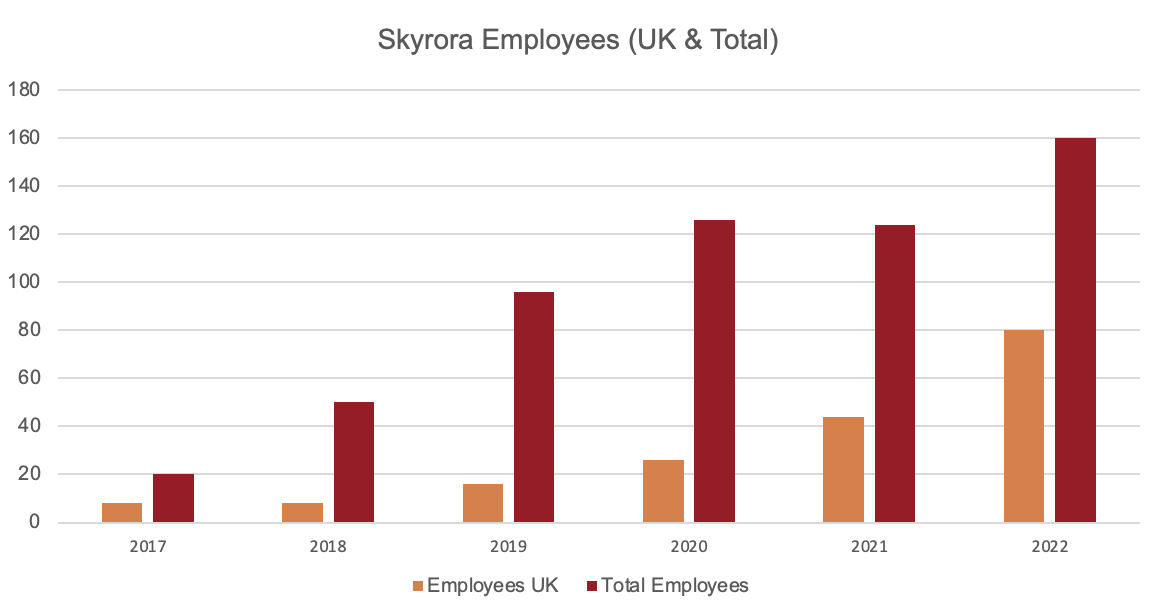 Geography: Facilities throughout Europe, launching from SaxaVord Spaceport
The company is quite international and has experienced a steady growth throughout the years. The main offices are in the UK with around 80 employees at the time of writing. The Ukrainian and Slovakian offices have about the same amount of engineers in total, while the German facility is rather small and, we believe, with no employees. Company accounts say that on a group level, Skyrora had over 250 employees and contractors in 2021.
For launch and test sites, Skyrora is quite flexible and has used different locations. It has used Machrihanish Airbase for its rocket engine test as well as a smaller test site in Gorebridge, Scotland. It has launched its smaller development rockets from Iceland, launch with Space Iceland's from islands Langanes peninsula. The main launch port for its orbital flights from the Skyrora XL will be the new SaxaVord Spaceport being developed in Scotland.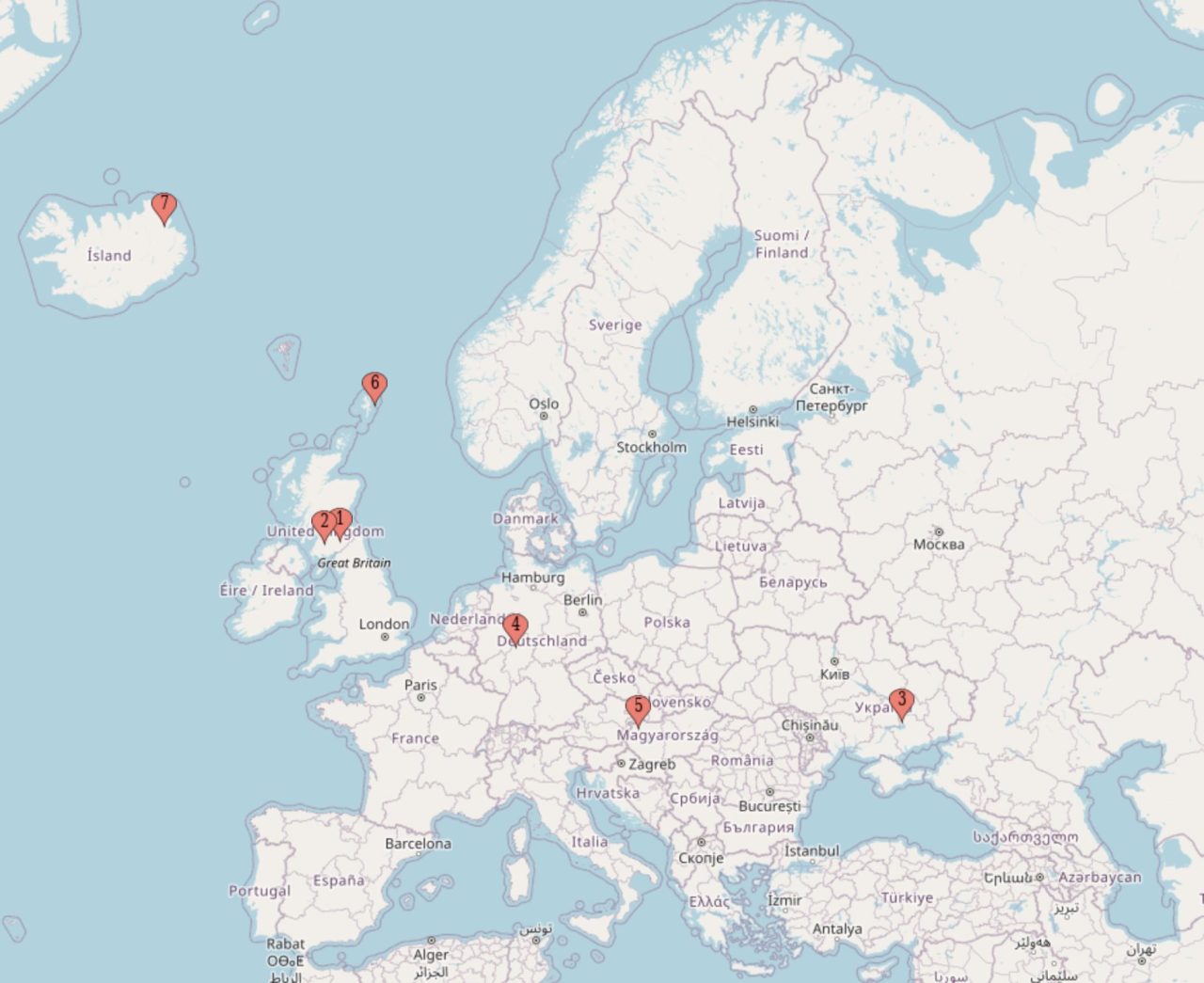 Skyrora's Rockets: Skylark Nano, Micro, L, SkyHy and Skyrora XL
Skyrora has been using a very iterative approach in its rocket development process. In 2018 and 2019, the company started developing its smaller sounding rockets such as the Skylark Nano and Skylark Micro. It launched several weather balloons in the early days for research purposes.
The first launches of the deveopmental rockets were carried out in 2019 and 2020 with successful launches of the Skylark Nano, reaching an altitude of 6 km, including a launch from Scottish soil. In 2021, they successfully launched the Skylark Micro rocket on their mobile launch base. The launch took place in Space Iceland and reached an altitude of over 26 km, the highest the company has come so far.
The company's biggest rocket launch to date was the Skylark L,the suborbital rocket with a payload of 60 kg. The rocket took off from Space Iceland in November 2022, but unfortunately failed right after the start and landed half a kilometer from the launch site in the Norwegian Sea.
Skyrora's main rocket will be the Skyrora XL. The XL is 22,7 meters in height and will have a lift-off mass of 56 tons. The payload capacity will be up to 315 kg to orbit and will be a three stage, Hydrogen Peroxide ("HTP")/Kerosene rocket. The first stage will have 9 engines at 70 kN Thrust, while the second stage will have one engine with 85,5 kN vac-thrust. The third stage, the "orbital stage" (similar to the concept of RFA), will provide 3,5 kN of thrust.
| Info | 1st Stage | 2nd Stage | 3rd Stage |
| --- | --- | --- | --- |
| Propellant | HTP / Kerosene | HTP / Kerosene | HTP / Kerosene |
| Feed system: | Turbopump | Turbopump | Pressure fed |
| # of Engines | 9 | 1 | 1 |
| Thrust | 70 kN (sea-level) | 85,5 kN (vacuum) | 3,5 kN (vacuum) |
| Exhaust velocity | 2,454 m/s (sea-level) | 3,001 m/s | 3,004 m/s |
| Specific Impulse (Isp) | 250 s | 306 s | 305 s |
| Gross mass | 44,611 kg | 9,921 kg | 1,067 kg |
An overview of the Skyrora XL stages and engines
Skyrora's Mobile Launch Site for on-the-go launches worldwide
What's interesting is that Skyrora is also developing a "Mobile Launch Complex" which can be quickly set up to launch vehicles. The mobile launch site includes all equipment needed for an on-site launch, such as assembly facilities for integration (1) testing, rocket propellant infrastructure (2) including storage (3), filling systems (8, 9), a mission control centre (5), power supplies (6) and launch pad (11) and emergency infrastructure (13, 14):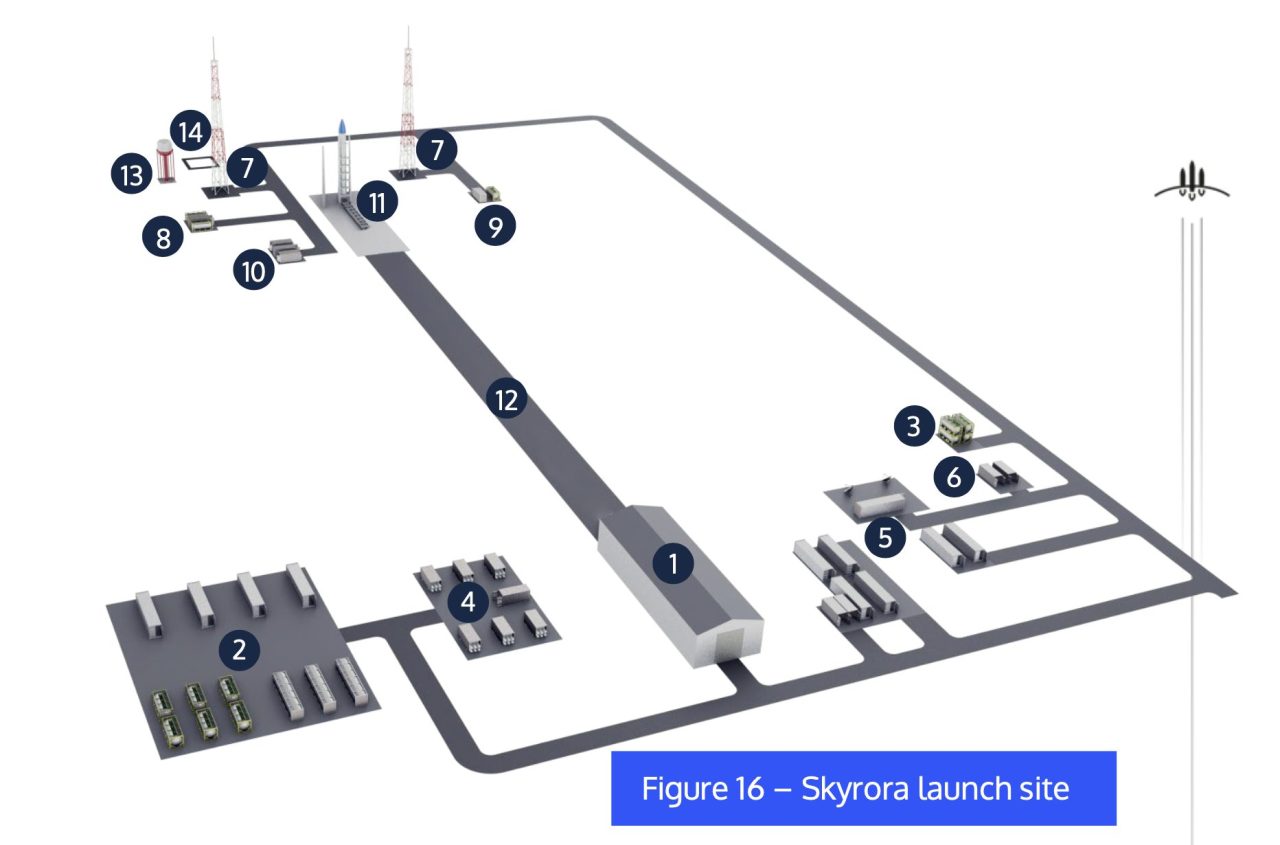 So far, the launches have taken place from Scotland or Iceland. Apart from their main launch port in SaxaVord, Skyrora has signed MoUs("Memorandum of Understanding") with Maritimes Launch Inc. in Novia Scotia, Canada, as well as the German Offshore Spaceport Alliance (GOSA) for a mobile launch platform in the North Sea in Germany.
Skyrora funding, valuation and financials
Skyrora is indirectly controlled through Skyrora Ventures, which is in turn controlled by Skyrora's CEO Volodymyr Levykin as well as Maxim Polyakov, who owns GBP 35,000,000 preferred shares in Skyrora Ventures. Max Polyakov was the main investor behind Firefly Aerospace, a NewSpace company based in the US, with a satellite and R&D office in Dnipro – similar to Skyrora.
The funding structure of Skyrora is somewhat comparable to RFA or HyImpulse, where a small group of shareholders fund the operations through investments. In this case, both Polyakov and Levykin have invested roughly GBP 20 million into Skyrora Ltd. as of December 2021 (GBP 9 million in share capital plus around GBP 11 million in capital contribution reserve).
Skyrora Ventures Ltd. and Skyrora Ltd.'s funding and share capital
| Date | Skyrora Ventures Ltd. | Skyrora Ltd. | Skyrora UA LLC |
| --- | --- | --- | --- |
| 2022 | 35,000,001 | 9,000,000 | 1,400,000 |
| 2021 | 35,000,001 | 9,000,000 | 1,400,000 |
| 2020 | 20,000,001 | 9,000,000 | 1,400,000 |
| 2019 | 16,900,001 | 7,500,000 | 33 |
| 2018 | 2,256,213 | 1 | 33 |
Share Capital of the companies in GBP, Ukrainian hryvnia converted
What's interesting about Skyrora's financing structure is that Levykin is using some of the subsidiaries of Skyrora Ventures to engage in "online advertising businesses". These are basically affiliate- and lead-based businesses for online dating services, for example Saltire Connect Ltd. In 2020, these businesses have generated GBP 4 million in revenue, in 2021 already over GBP 15 million with a gross profit of GBP 1,5 million.
Skyrora Venture Ltd.'s funding structure has a total capital of GBP 35,000,000 paid in through the shareholders, with a GBP 15,000,000 raise in 2021.
The Ukrainian Entity Skyrora UA LLC (СКАЙРОРА ЮА) has a share capital of roughly USD 1,400,000 paid in, which was put up in two rounds in 2021. Whether and how much share premium was paid is not clear at this point.
Furthermore, Skyrora has secured EUR 3 million in grants from ESA's Boost! program in March 2021, sharing it with Orbex's EUR 7,5 million support. They've also partnered with University of Paderborn in a program by the European Commission for advanced materials and 3D printing, though no funds have been disbursed to Skyrora.
Business plan, strategy and cost of a launch: Pricing at GBP 30,000 per kg payload
Skyrora's business plan focusses on the launch of the Skyrora XL vehicle in 2023, potentially in 2024. The company's business plan estimates an effective payload of 315 kg into low-earth orbit at a potential launch cadence of 16 launches per year. According to the Skyrora XL payload guide, manufacturing a rocket takes roughly 6 months. In 2021, they manufactured 4 engines. Each vehicle will require 11 engines. Assuming a successful launch of the XL at the end of 2023 and a constant production, Skyrora will need to increase output at least 15 to 20-fold to achieve a launch cadence of 16 per year by 2030, which will require further significant funding for their production facility in North Lanarkshire.
Skyrora estimates a payload price of GBP 30,000 per kilogram according to the company's annual accounts. This puts them in the upper boundary for pricing, with companies like Isar Aerospace or RFA being in the range of EUR 10,000 – EUR 15,000 (GBP 8,800 – GBP 13,500).
Skyrora Valuation: Estimated between GBP 40 – 75 million
Since there are no public funding rounds available (Series A / Series B) and all investments have been placed privately, we have no public valuation for Skyrora's business. We must therefore estimate the company's value by comparison as well as potential future revenue. The company is one of the largest NewSpace companies in Europe with over 200 employees, of which around half are based in countries with lower wages and costs, such as Ukraine and Slovakia. This gives Skyrora advantages in R&D, though the difficulties of the War in Ukraine could have impacted the company's development.
Skyrora has further successfully launched developmental rockets and has a suborbital rocket with a potential payload of 60 kg, the Skyrora L. Even though the first launch was unsuccessful, this is nevertheless a potential revenue source for intermediate funds, and with a production of 1 vehicle per year since 2020, potential revenue of GBP 1,5 – 2 million per year. Looking at the books, the company will charge GBP 30,000 per kilogram of payload to orbit, which gives each Skyrora XL launch the potential for GBP 8 – 10 million in revenues. As of 2021, around 21 LOIs with satellite company's have been signed.
Comparing the company with others such as HyImpulse's valuation or PLD Space's, who are valued at EUR 45 million for a yet-to-fly suborbital rocket, we estimate Skyrora's valuation to be around GBP 40 to 75 million at the time of writing. Much will depend on their launch success of Skyrora L and Skyrora XL.
What certainly gives them a large benefit is the larger infrastructure of Skyrora Ventures, which produced GBP 15 million in revenues and gross profits of GBP 1,5 in 2021. Skyrora has yet to raise funds from public sources or VCs, which are valid options in the coming years.
Working at Skyrora: Salary, benefits and opportunities
With its headquarters in Scotland, most job opportunities available for students or experienced engineers will be in Edinburgh or Glasgow. The company's UK offices have steadily grown to over 80 in 2022 and several open positions exist. Generally, overtime or "sprints" can be expected when you work at Skyrora, as the company is still very young and burning money day by day.
In terms of salary, Skyrora pays average amounts or at times a bit lower than the average. Job listings for Technicians (Mechanical Technicians, Test Site Technician) range between GBP 29,000 and GBP 32,000. Team leaders can earn between GBP 45,000 and GBP 50,000. Engineers, Robot Operators, Programmers or Project Managers are somewhere inbetween with salaries of GBP 35,000 – GBP 40,000. All numbers are taken from Skyrora's official job ads, which generally include the salary.
In terms of other benefits, not much is public, though learning curves should generally be pretty steep and the company is at the forefront of some of the most exciting infrastructure projects in the UK. We do not know whether Skyrora has a stock options program or any sort of company participation through shares.
My opinion on Skyrora and why you should keep an eye on them
What I like about Skyrora
Iterative approach: I like the iterative and transparent approach. There have been no absurd promises or unrealistic deadlines, the XL was scheduled for 2023 since 2019 (and this could still be achieved) and the PR has been mostly straightforward. Going from smaller to larger vehicles is also a good strategy when you're starting out from zero. It gives the company achievable milestones, actual vehicles have to be produced and the team gets real launch experience.
Funding options: The company seems to be well in the hands of Levykin and Polyakov with no public funding sources, other than grants from ESA. They have internal revenues through their "online advertising" subsidiaries, which can extend runway. The Ukrainian entity has had revenues of over GBP 1 mio. There are definitely funding options for Skyrora. And also the old saying mnight apply: "How do you make a small fortune in the rocket industry? You start with a large one."
Content game: Yea, small thing, but if you want to get your kids interested in rockets, you should check out the Skyrora Coloring Book or the Skyrora Rocket Origami. They also have dozens of articles explaining the basics of rocketry in layman's terms.
What I don't like about Skyrora
Doing a lot at the same time: 3+ countries with operations, offering a mobile launch site, developing a new (PR-)fuel called Ecosene, planning a third stage for orbital services such as space debris removal ("SpaaS – Space as a Service"). Skyrora has quite a lot of things on its plate and only so many resources. I hope that some of the plans are still in the "idea-phase" and used for window-dressing, while the team is 100% focussed on getting to (sub-)orbit.
Lee Rosen: Why did Rosen leave Skyrora after 6 months? Is Scotland's weather really that bad? Or was the state of the European aerospace ecosystem just too desolate (compared to SpaceX)? Rosen was an exceptional hire and other than "personal reasons", there are no clear statements as to why Rosen might have left. Let's hope that he really just missed the Californian sun.
Things to watch out for
First launches of L and XL: Both L and XL are still slated for launches in 2023. It will be interesting to see when they will give the Skylark L another try – potentially again from their mobile launch complex like they did in Iceland. We will see if the XL will actually be ready this year or whether they will postpone it (for the first time) to 2024.
Ukrainian approach: Having the R&D base in the "rocket city" in Dnipro, Ukraine brings good engineering talent and possibilities to the team, something that many other founders cannot make use of. It is unclear though how much the war in Ukraine might have impacted the R&D of the rocket and what the future impacts will be.
Structured company information on Skyrora Limited
| Type | Information |
| --- | --- |
| Official Company Name | Skyrora Limited |
| Founded in | June 2017 |
| Management | Volodymyr Levykin, Laura Edison |
| Founders | Laura Edison, Daniel Handry Smith, Volodymr Levykin |
| Locations | |
| Headquarter | 108 Princes Street, Edinburgh EH2 3AA, United Kingdom |
| Manufacturing | 7 Drum Mains Park, Cumbernauld, Glasgow G68 9LD, United Kingdom |
| Primary Launch Site | SaxaVord Spacesport, Haroldswick, Unst, Shetland Island, Scotland |
| Secondary Launch Site | Langanes Peninsula, Iceland |
| Test Site | Machrihanish Airbase, C8Q4+4W, Campbeltown PA28 6NU, United Kingdom |
| Subsidiary | Skyrora UA LLC, 49049, m. Dnipro, vul. Baikova, 61, Ukraine |
| Contact |  |
| Email | info@skyrora.com |
| Website | https://www.skyrora.com |
| Instagram | Skyrora Instagram |
| Twitter | Skyrora Twitter |
| LinkedIn | Skyrora LinkedIn |
| YouTube | Skyrora Youtube |
Interested in more space companies? Read our other reviews and analysis